Skyboat Media is proud to present THE RETURN OF THE ELVES SERIES by exciting new fantasy author Bethany Adams.  We are very grateful for Bethany's vote of confidence in bringing her series to Skyboat. Listen as we,  Gabrielle de Cuir and Stefan Rudnicki bring Adams's magical world to life in this audiobook.
"Why did she seem so familiar?  The cast of her eyes and her high cheekbones reminded him of someone, but he couldn't have met her before and not recognized her as his bonded. 'Where are you from?' "-from SOULBOUND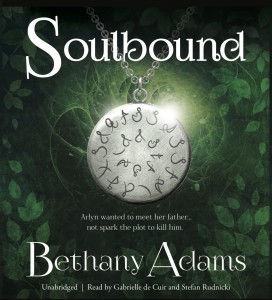 In SOULBOUND, Kai has given up on finding his soulbonded. It has been five hundred years.  He stumbles across Arlyn, recognizes her his mate and hastily starts their bond. Only, Arlyn is half-human.  And the daughter of his best friend.
Though Arlyn's heart pounds at the sight of Kai, she's not sure if she can forgive him for starting their bond without her permission.  She doesn't have time to worry about that at the moment. There are too many other things happening.
In trying to reach Lyr, her elf-lord father in Moranaia to tell him of her mother's death, Arlyn doesn't realize what she's setting in motion. Because her father acknowledged her as his half-human heir, the conspiracy that kept her father from her mother in the first place is reigniting.  Will her newly awakened magical abilities be enough to save her and her remaining family against iron-wielding assassins and bigotry?  Will Arlyn be able to return to Earth as she had planned?
Purchase your copy of SOULBOUND to find out.
"Flickers of mage energy shot through the sky, punctuated by the occasional scream.  Kai's worry amplified.  The Neorans prided themselves on their control.  What kind of poison could lead them to such insanity?"-from SUNDERED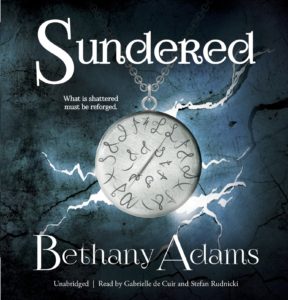 In SUNDERED, the second installment of the series, Lyr is trying to find the source of the poisoned energy that's flooding into the closely corrected realms of the fae, causing sickness.  Since Moranaia remains untouched, Lyr wonders if one of his own people is responsible.
And then there's Meli.  Meli is part of the Ljósálfar, the reclusive Norse elves of Alfheim.  Lyr thinks she may be a possible soulbonded, but he doesn't have time to think about that now.  Finding the source of the dark energy is too important for any distraction.  The king has ordered Meli to lead an expedition to another world.  Though she has no magic of her own, she must figure out how she's to navigate the Veil between two worlds.  The fate of Alfheim depends on it.
Will they be able to find who or what is causing the threat and put a stop to it?
Listen for yourself.
Purchase your copy of SUNDERED today.
ABOUT THE AUTHOR: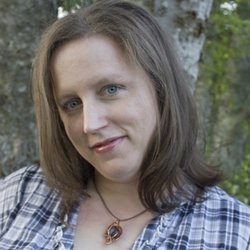 Bethany Adams has loved fantasy ever since she found a copy of The Hero and the Crown in her elementary school library. Her love of writing led her to pursue an English degree at Middle Tennessee University.  When she's not writing, she enjoys reading, photography, and video games.
If you'd like to know more about what makes Bethany Adams tick, check out this great interview with Janell Rhiannon.  Learn who really inspired her love of elves and fantasy.