From the magical mind of fantasy romance author Bethany Adams comes ASCENT, Book 7 in The Return of the Elves Series.
You may recall that we here at Skyboat are huge fans of Bethany Adams and The Return of the Elves Series. Gabrielle de Cuir and Stefan Rudnicki have narrated ALL of The Return of the Elves Series audiobooks! (Need a quick refresher? We have you covered! Check out our previous blog post and listen to an audiobook sample clip from all seven books in our Skyboat Return of the Elves playlist!)
A rich, magical world. Strong, dynamic characters. Vivid, exhilarating romance. There is a whole lot to love in these books. Which is why Gabrielle and Stefan were each delighted to brush off their pronunciation lists and step back into the recording booth and back into this world of magic, Elves, and romance. Talk about the perfect (audiobook) escape.
---
"For two weeks, Maddy had avoided giving the Moranaian healer an answer to his offer to teach her, and there was a good chance he wouldn't like what she had to say once she did. Yes, her gift needed training. She couldn't use her healing magic without risking harm to the patient, and the Sidhe, her father's people, had no interest in teaching her since she was half human. But she couldn't relocate to another world for a few decades—or centuries—either. No way." –from ASCENT

ASCENT (The Return of the Elves, Book 7) by Bethany Adams
Read by Gabrielle de Cuir and Stefan Rudnicki
In the seventh book of the Return of the Elves Series, magic has returned to Earth, but that doesn't mean that humans and the fae can live together in peace just yet.
Maddy, a deadly healer and a fae, is unable to find a teacher for her healing abilities and so she must travel to Moranaia to learn, but this means leaving behind her girlfriend Anna, whose magical water abilities have just been awakened, unprotected on Earth and trying to ignore the call of the river.
Having helped capture Kien, the lost prince Fen must now deal grapple with everything he did while working with the evil fae and consider his claim to the Unseelie throne. And when it gets out that Fen could share a mate bond with Maddy and Anna, they must all deal with their inner demons in order to be together.
Worse yet, the poison that once coursed through Fen's veins has reappeared, and the traitorous Seelie fae, Meren, has come out of hiding to take power for himself. Anna, Fen, and Maddy must master their abilities quickly and work together to defeat the rising threat. But in order to do this, they must first conquer their past.
---
"Okay, I admit it. I'm a genre blender. There's always a little romance in my fantasy and fantasy in my romance. What can I say? Magic and love are both awesome." –Author Bethany Adams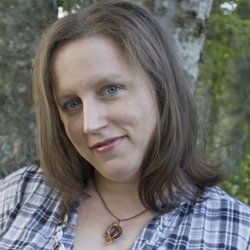 Bethany Adams has loved fantasy ever since she found a copy of The Hero and the Crown in her elementary school library. Her love of writing led her to pursue an English degree at Middle Tennessee University. When she's not writing, she enjoys reading, photography, and video games.
 If you'd like to know more about faes, check out her helpful FAQ page.
Gabrielle and Stefan deliver masterful performances, bringing to life old characters and new in Bethany Adams's latest paranormal romance. So grab your headphones and escape to a magical realm.

Purchase your copy today!