"I have admired my grandfather for years and am passionate about words and stories.  Audiobooks have played an important role in my life," says Stokes, "Everything that I have today, I have because Bill believed in me when others didn't. He gave me a chance to make my life better. If it wasn't for him, I am not sure where I would be right now. That's why I have been working hard to do something for him, specifically bringing his books back to life." –Paul Stokes about his grandfather, Bill Stokes
As the industrious owner and operator of audiobookreviewer.com, Paul Stokes hoped he could give his grandfather's books a larger audience by putting them on audio. With Skyboat Media and his backers at IndieGoGo, he's done just that.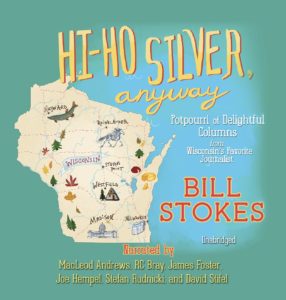 Originally published in 1973, HI-HO SILVER, ANYWAY is a collection of articles and columns that illustrate what Bill Stokes does best: write with good humor and feeling. For ten years Bill Stokes was a roving reporter and columnist for the Milwaukee Journal. He has written reams of material about his vivid impressions of people, animals, events, personal activities, and "things in general."
Through his travels, Bill has met with the unusual and unique to the humorous, trivial, and tragic. This select group from his collection of stories and columns indicates the broad scope of his journalistic efforts, brilliant talents, and professional ability.
It's clear that Bill takes great joy in the state of Wisconsin and its people. With his love of the outdoors and his terrific storytelling ability, it's easy to see why his home state is so fond of him.
About the author: Bill Stokes has been dubbed Wisconsin's favorite journalist and most famous outdoor writer. During his long journalism career, he wrote for The Milwaukee Journal and the Chicago Tribune, among others before retiring and pursuing freelance projects. He's authored two children's books and has compiled three anthologies of his newspaper writing.
HERE'S A CLIP SHOWING BILL STOKES READING FROM ONE OF HIS OWN ESSAYS ABOUT HORICON MARSH.  A GREAT OUTDOOR WRITER IN ACTION!