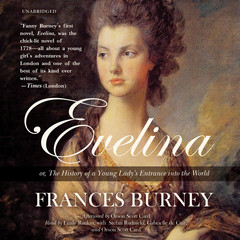 Actually, this time it started with what Orson Scott Card was thinking.
He told us Jane Austen liked Frances Burney.
And so all of us over here at Skyboat are thinking: whaddya know? We like Frances Burney, too!
Frances Burney (1752-1840) was an English novelist, diarist, and playwright known for her exploration of manners and satire. EVELINA (or A YOUNG LADY'S ENTRANCE INTO THE WORLD) was published anonymously in 1778, but Burney enjoyed great fame when her authorship was finally revealed. This was her first and certainly most popular novel—a vivid, satirical, and seductive account of the pleasures and dangers of fashionable life and love in late eighteenth-century London, hence why The London Times later called it "the chic-lit novel of 1778."
For this project, we needed a voice that captured the feminine beauty, youthfulness, and satire equally well, and so we naturally thought of the incredibly talented Emily Rankin. Not only is Emily an Audie Award winning narrator, but she is a huge fan of Jane Austen (as are we) as seen in the below viral video she produced a few years back:
But Emily didn't work alone of course. We use a director for each of our projects, and part of the challenge is always finding the perfect match between voice and conductor. In this instance, we elected the lovely Claire Bloom to work with Emily, and there's little doubt that this female partnership is to what we owe the fabulous result.
With additional narration done by Stefan Rudnicki and Gabrielle de Cuir, and an Afterword by Orson Scott Card, this historic yet timeless novel is sure to please any lover of Jane Austen, chic lit, historical fiction, or just plain fun. Get your copy from Downpour.com today!