"Like a heart attack. That's the best way to describe it. I've never had one of those, that I know of, but I'm pretty sure it feels just like that." –the opening lines of SHACKLED
Tom Leveen wrote his first story in second grade and has been writing and telling stories ever since. He is the author of nine novels, including ZERO (a YALSA Best Book of 2013) and HELLWORLD (a Bram Stoker Award finalist). A frequent speaker at schools and conferences, Tom was previously the artistic director and cofounder of an all ages, nonprofit visual and performing arts venue in Scottsdale, Arizona. He also: finished a marathon (in six and half hours), earned a blue belt in Tae Kwon Do, directed 30 plays and acted in 30 more, ran a theatre company out of his backyard, met almost all of his literary heroes except for Stephen King, played in a punk band live in front of actual people (once), and spent twenty years earning his Bachelor of Science degree. (And this isn't even the half of it! Keep up with Tom's latest adventures on his website.) Tom's parting wisdom: "So if there's something you want to do, go do it."
Stefan Rudnicki and Gabrielle de Cuir had the pleasure of meeting Tom at the World Fantasy Convention last year, and, with a life story as compelling as his, it's easy to see why we are thrilled to bring his novel SHACKLED under the Skyboat banner. And Gabrielle had the honor of narrating this one herself.
A taut, suspenseful novel about a girl's abduction that leaves her best friend emotionally paralyzed, until a chance encounter points her toward the truth…and a terrifying new danger.
---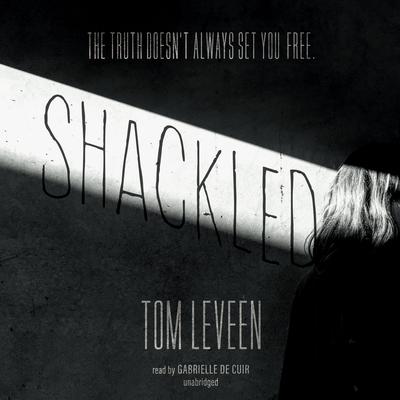 SHACKLED
Sixteen-year-old Pelly has a master plan: After years of therapy, medication, and even a stint in a mental hospital, she's finally ready to re-enter the world of the living. Pelly has been suffering from severe panic attacks ever since her best friend, Tara, disappeared from a mall six years ago.
And her plan seems to be working, until an unkempt girl accompanied by an older man walks into the coffee shop where she works. Pelly thinks she's seen a ghost, until the girl mouths "help me" on the way out, and Pelly knows she's just seen Tara.
Determined to track down enough evidence to force the police to reopen Tara's file, Pelly's plan takes a turn for the dangerous. Pelly decides she cannot be shackled by her past—and the anxiety, fear, and grief that comes with it—any longer if she wants to save Tara. But in seeking answers through whatever means necessary, she'll come face-to-face with true evil. And not all the shackles are in her head …
---
Tom deftly handles anxiety and mental health issues while building a narrative, which earned a hat tip from none other than Kirkus Reviews: "Pelly's anxiety and strategies for managing her mental health…are well-integrated into her character; this is a book about a person not an issue." And Gabrielle agreed, calling SHACKLED "an amazing little book; suspenseful, dealing with panic attacks, and a mystery besides."
There's a reason this book is listed in the "STAY UP ALL NIGHT" category of Tom's work. With an imaginative author; a complex, realistic protagonist; a suspenseful mystery; and a seasoned narrator, SHACKLED is sure to deliver a bang for your buck. Ready to go along for the ride? Listen to a free sample here and then purchase your copy today!