Premee Mohamed may describe her novella, THE APPLE-TREE THRONE, as "a steaming heap of self-indulgent drivel," but we here at Skyboat humbly disagree. In fact, we would describe it as heart-wrenchingly captivating. When Stefan Rudnicki steps out of the recording booth and declares this to be "the most elegant piece of contemporary writing I've encountered," it is worth sitting up and taking notice.
Stefan was directed by the brilliant Claire Bloom, and she was just as taken with the gorgeous writing as Stefan was. These two have undertaken dozens and dozens of projects together and to say Premee's work is a standout is no exaggeration. We are incredibly honored to publish THE APPLE-TREE THRONE audiobook under the Skyboat banner.
Cotidie damnatur qui semper timet.
"The man who is always in fear is every day condemned."
---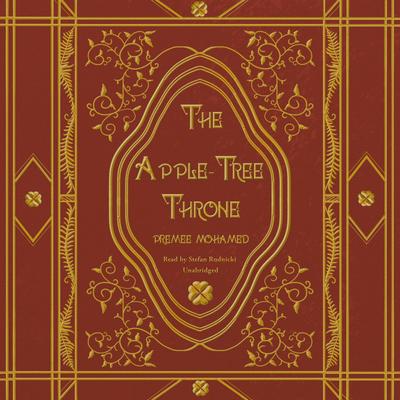 THE APPLE-TREE THRONE by Premee Mohamed
Read by Stefan Rudnicki
This alternate-history/fantasy takes place at the turn of the century in "an England that never was," and centers around a man haunted by the ghost of his commanding officer Theodore Wickersley … literally.
Lt. Benjamin Braddock is a survivor of the massacre that ended the war. Since he has no family of his own to come home to, he is taken in by the Wickersleys, the wealthy family of his former commanding officer. Braddock is grateful for their generous hospitality and has only good things to say about his former commanding officer (though he does seem to be the only member of his command who can remember Theodore Wickersley with any kindness). But the ghost of Wickersley is displeased that Braddock receives the warm homecoming that should have rightfully been his. With such righteous ghostly anger brewing, the secrets of the war won't remain buried for long.
---
Taking place in an alternate Edwardian era, THE APPLE-TREE THRONE exhibits a poignant and insightful look into the esoteric emotions of a post-war life. Indeed, Premee Mohamed's thoughtfully imagined and fully realized "Britain" is as unique and unconventional as she is. A self-proclaimed "writer and eldritch monster," Premee has two science degrees, and many of her stories are inspired by her years making frankencanola, and her many other scientist-adventurer pastimes. She has had short fiction published by Automata Review, Mythic Delirium, Pseudopod, Nightmare Magazine, and many others. Beneath the Rising, her debut novel, was released in March 2020 by Solaris Books. (And, yes, there will be a sequel!) Premee Mohamed is also an Associate Editor and Social Media Manager at Escape Pod, a science-fiction podcast, as well as a Capital City Press Featured Writer (2019) for the Edmonton Public Library.
We have no doubts that Premee will continue to astound us with her bold, imaginative work and we will be cheering her on every step of the way. Listen to a free sample of THE APPLE-TREE THRONE here and purchase your copy of this stunning novella today!