Skyboat Media is proud to present the audiobook version of the thrilling new science fiction novella from the wonderful James Patrick Kelly and Subterranean Press… *drum roll please*… King of the Dogs, Queen of the Cats.
Winner of Nebula, Hugo, and Locus awards, author James Patrick (Jim) Kelly spins a tale of action, politics, love, and adventure that will thrill the senses. Jim has published over one hundred stories and has been translated into over twenty languages. He writes an Internet column for Asimov's Science Fiction Magazine and he recently retired from the Stonecoast Creative Writing MFA Program at the University of Southern Maine, where he was a faculty member.
"I believe that the best way to learn to write stories is to write them as well as you can and then take them apart again. For me, this means that the workshop, as opposed to the lecture hall, is where excellence is forged." – Jim Kelly's teaching philosophy 
 For King of the Dogs, Queen of the Cats, Kelly was inspired by a column he was writing on the disparities between cats and dogs in science fiction. (His website is definitely worth a serious visit.) So where does this seemingly age-old distinction between dog people and cat people come from? "And what do cat videos have to do with science fiction?" Jim, a self-proclaimed "well-adjusted cat person," answers these questions with a delightful mix of statistics and listicles, and a special insight into the relationships between humans and their canine and feline friends.
"But then came an unexpected inspiration: if readers were so interested in stories about cats and dogs, maybe I should write one. And so I did." — Jim Kelly on the genesis of the tale 
 The stunning result? His science fiction and fantasy novella: The King of the Dogs and the Queen of the Cats.
 And when you need to voice not just humans and clones but also dogs and cats, including a cat who "seemed more like a human than a cat," who else do you turn to but Stefan Rudnicki at Skyboat Media? Stefan, of course, rises to the canine, feline, and human occasion in this audiobook. It really is worth a listen – this narrator (under the direction of veteran Skyboater Cassandra de Cuir) voicing this author. Jim and Stefan make a wonderful team. 
---
King of the Dogs, Queen of the Cats by James Patrick Kelly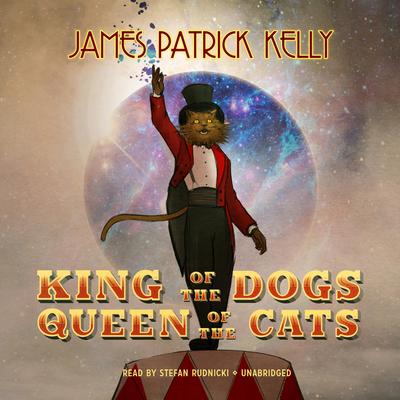 Read by Stefan Rudnicki
"Rehearsals are now underway for the Antic Tour of Interspecies Marvels at Scofflaw Circus! Dogs and cats and humans as you've never seen them!"
There has never been a circus on the planet Boon, and for good reason. The delicate balance of life and politics among dogs and cats and humans could be upset by any small thing; and a circus that blurs the lines between species is no small thing. Gio Barbaro is a clone descendant of one of Boon's ancient leaders, a junior senator, a known friend to dogs, and a secret iconoclast, but when he is recruited by the circus's feline ringleader, Scratch, Gio must go against family and class, to figure out what he believes in.
---
OUR HISTORY WITH JIM: This is not the first Kelly/Skyboat collaboration. Both Stefan and Gabrielle de Cuir have had the privilege of narrating some of Jim Kelly's short stories for Lightspeed Magazine (you know, just that Hugo-award winning absolutely amazing sci-fi magazine from John Joseph Adams with free podcasts every month!)
Gabrielle narrated "Breakaway, Backdown" for Lightspeed in February 2011, which you can still listen to for free here. And Stefan narrated "Miss Nobody Never Was," for Lightspeed in December 2013, still available for free. 
Needless to say, Stefan was delighted to return to the narrator booth for another of Jim Kelly's stories. Buy your copy of King of the Dogs, Queen of the Cats today!