"Launching a genre-mashing adventure series set in the 1920s, Phillips (The Movie Makers) drops a historical Black explorer who was part of Robert Peary's Arctic expeditions into a pulpy battle with ambitious gangsters and sinister cabalists….The result is a tropey and diverting adventure, distinguished by its Jazz Age Harlem setting and unflinching depiction of 1920s race relations." —Publishers Weekly
Matthew Alexander Henson was born in Charles County, Maryland in 1866. After working as a cabin boy on a merchant ship and learning how to navigate, he was hired by Commander Robert Edwin Peary and accompanied him on seven Arctic expeditions between 1891 and 1909. On April 6, 1909, Matthew Alexander Henson and Robert Edwin Peary, and four Inuit assistants, became the first human beings to set foot on the North Pole. According to Henson, he was the first of the group to reach the North Pole.
In 1912, Henson published an account of his experiences, "A Negro Explorer at the North Pole," and lectured throughout the country. Compared to Peary, however, he received relatively little immediate recognition for his part in the 1909 expedition to the North Pole. Late in life, Henson received some long-overdue honors: the prestigious Explorers Club admitted him as a member in 1937, Congress awarded him the Peary Polar Expedition Medal in 1944, and Presidents Truman and Eisenhower welcomed him to the White House.
After his death in 1955, Matthew Henson was buried at New York's Woodlawn Cemetery. In 1987, at the request of Dr. S. Allen Counter of Harvard University—a neurobiologist, explorer and expert on Henson—President Reagan granted an exception to Arlington National Cemetery's burial policy, allowing for the bodies of Henson and his wife, Lucy Ross Henson, to be reinterred at Arlington National Cemetery with full military honors.
On April 6, 1988, the remains of Matthew Henson and his wife were transported to Washington, D.C., where they were buried near the gravesite of Admiral Peary and his wife, Josephine Deibitsch Peary. That same year, the National Geographic Society posthumously awarded Henson the Hubbard Medal, its highest honor. The reinterment and the medal represented the ultimate national recognition that Henson had so long deserved.
And now, real-life explorer Matthew Henson gets "superhero treatment" in Gary Phillips' new Matthew Henson series.
"In Matthew Henson and the Ice Temple of Harlem, set in 1920, Phillips re-imagines Henson as an adventurer who never lost his taste for action or exploring new situations whether they be countries or Harlem neighborhoods." –Excerpt from Oline H. Cogdill's Sun-Sentinel book review
Gary Phillips has written novels, short stories, graphic novels and is executive story editor on FX's "Snowfall," about crack and the CIA in 1980s South Central. In MATTHEW HENSON AND THE ICE TEMPLE OF HARLEM, "Phillips uses the background of the Harlem Renaissance with aplomb while sprinkling in real-life people such as the first Black aviatrix, Bessie Coleman, poet Langston Hughes, inventor Nikola Tesla, author Dashiell Hammett, writer Zora Neale Hurston and many more…" (Sun-Sentinel). In his Big Shiny Robot review, Jayrod P. Garrett writes, "Careful consideration is given not only to the unapologetic Black nature of the Harlem Renaissance but also to the beautiful culture of the Inuit people. Everything about this book tells you that cultural homework was done to make certain it honored all the cultures that intersected in the creation of this work of historical fiction" in "'MATTHEW HENSON AND THE ICE TEMPLE OF HARLEM' REVIEW – REIMAGINED HISTORY DONE RIGHT". To find out more about how Gary Phillips went about turning a real man into a legend, check out Phillips' CrimeReads essay.
The Skyboat team knew this heart-pounding pulp adventure series was special from the get go. Skyboat's Stefan Rudnicki fostered a collaboration between author Gary Phillips, publisher Polis Books, and our partners Blackstone Publishing to bring this audiobook to fruition. Stefan was honored that Gary entrusted him to narrate this powerful story and, together with director Claire Bloom, he dove in with deep enthusiasm and respect for Gary's vivid imagined world, populated with equally vivid characters.
Listen to an audiobook sample on Skyboat's SoundCloud.
"Phillips marvelously and gracefully performs the role of dual historiographer—vintage pulp stylist and Black historian—wrapping it all together in a thrilling, action-packed adventure. Phillips swings between fantasy and reality with the gusto and aplomb of Henson crashing through a window to save the day." –Excerpt from Cullen Gallagher's Pulp Serenade review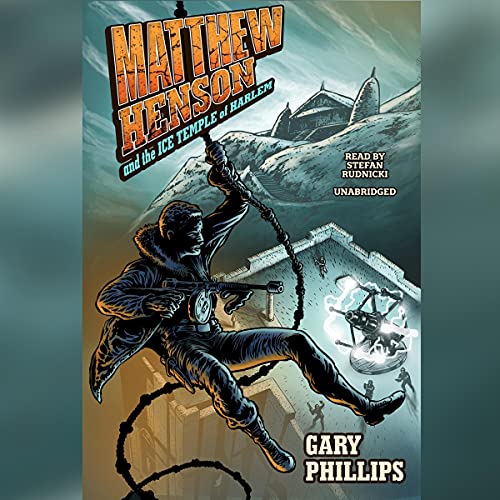 MATTHEW HENSON AND THE ICE TEMPLE OF HARLEM (Matthew Henson Series, Book 1) by Gary Phillips
Read by Stefan Rudnicki
Matthew Henson and the Ice Temple of Harlem is the first in an exciting new retro, rollicking adventure series. This reimagined pulp novel follows the Doc Savage-style adventures of the first American to reach the North Pole – Matthew Henson.
The tail end of the Roaring Twenties. Harlem.
Hired by controversial spiritual leader Daddy Paradise to retrieve his adult daughter who has been kidnapped, adventurer Matthew Henson does just that. Then he must safeguard the two until the firebrand can deliver a momentous speech at a mass rally. Henson must employ all his survival skills to fulfill his task – skills that kept him whole in forbidden jungles, across Asia, and in sub-zero ice storms when he first reached the North Pole. Henson's charge brings him face-to-face with such illustrious characters as gangster Dutch Schultz, who's looking to muscle out numbers racket boss Queenie St. Clair; and famed inventor Nikola Tesla, who is using his electrical acumen to surveil plutocrats. Henson's pal Bessie Coleman, America's first Black aviatrix, lends a hand as well.
With a death ray zeroing in on him, Henson races against the clock to save lives, and to keep a mysterious and powerful meteor fragment he brought back from the Arctic years ago out of the hands of monied evil-doers. 
Purchase your copy of MATTHEW HENSON AND THE ICE TEMPLE OF HARLEM today!