"Hannali is a buffalo bull of a man who should become one of the enduring characters in the literature of the American Indian." –Dee Brown, historian and author of Bury My Heart at Wounded Knee
Raphael Aloysius Lafferty (1914 –2002) was an American science fiction and fantasy writer known for his original use of language, metaphor, and narrative structure, as well as for his etymological wit. Born in Iowa, R. A. Lafferty was the youngest of five siblings. When he was 4, his family moved to Perry, Oklahoma. He attended the University of Tulsa for two years, mostly studying math and German, but left before graduating. He enlisted in the U.S. Army and then worked as an electrical engineer.
While Lafferty did not begin writing until the 1950s, he wrote thirty-two novels and more than two hundred short stories, most of them at least nominally science fiction. He also wrote a set of four autobiographical novels, In a Green Tree; a history book, The Fall of Rome; and several novels of historical fiction. He was nominated for the Hugo, Nebula, and World Fantasy Awards and, in 1990, Lafferty received a World Fantasy Lifetime Achievement Award. After his death in 2002, his collected papers, artifacts, and ephemera were donated to the University of Tulsa's McFarlin Library, Department of Special Collections and University Archives.
"OK, so a select few actually have read Lafferty, a secret society of loonies whose names you probably do recognize. Neil Gaiman. Ursula Le Guin. Samuel Delany. Other sci-fi writers, in other words. R. A. Lafferty has always been, then, a sci-fi writer's sci-fi writer—a blurry, far-out position to find oneself in."
As Jason Kehe notes in his WIRED article, "Nothing about Lafferty's style is ordinary." Just as his prose is "uncategorizable", it is no surprise that Lafferty did not limit himself to a single genre. OKLA HANNALI, published in 1972 by the University of Oklahoma Press, is a historical novel that tells the story of the Choctaw in Mississippi, and after the Trail of Tears, in Oklahoma, through an account of the larger-than-life character Hannali and his large family. Novelist Dee Brown, author of Bury My Heart at Wounded Knee (1970), wrote, "It is art applied to history so that the legend of the Choctaws, their great and small men, their splendid humor, and their tragedies are filled with life and breath."
Skyboat's Stefan Rudnicki is a long-time fan of Lafferty and he has been eager to add one of Lafferty's title to Skyboat's growing list of audiobook classics. (Indeed, Samuel Delany is well-represented in our catalog, and Stefan has narrated works by Ursula Le Guin as well.) Needless to say, Stefan was thrilled when the opportunity to produce a new audiobook of OKLA HANNALI presented itself, and we are grateful to Blackstone Publishing for partnering with us on this project. Stefan was humbled and gratified when the R. A. Lafferty Estate, held by the Locus Science Fiction Foundation, eagerly approved him as the narrator for this project.
Then it was all hands on deck as the Skyboat team undertook extensive preparations for recording. In addition to directing, Alison Belle Bews spearheaded our research efforts and reached out members of the Choctaw Nation of Oklahoma and the Locus Science Fiction Foundation for guidance on pronunciations. We would like to extend special thanks to Dora M. Wickson, Teresa Billy, and Sue Folsom at the Choctaw Nation of Oklahoma, and to Liza Groen Trombi at the Locus Science Fiction Foundation. Then, with Alison in the director's chair, Stefan brought Lafferty's historical tale to new life.
Listen to an audiobook sample on Skyboat's SoundCloud.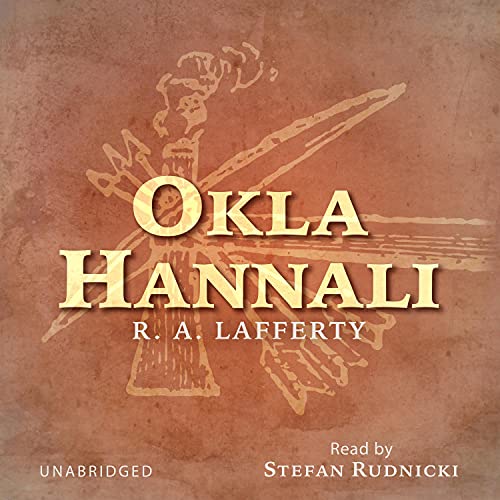 OKLA HANNALI by R.A. Lafferty
Read by Stefan Rudnicki
In an unknown year (either 1800, 1801, or 1802 according to the later recollection of his brother) was born Hannali Innominee of the Okla Hannali District of the Choctaw Nation. Hannali would be a big man and would almost exactly fill a century.
Hannali was a farmer, a blacksmith, a boatbuilder, a ferryman, a distiller, a tanner, and the founder of an estate that was a town. He waited a long time to get married, but, when he did, he married three women of three different races on three successive days. He was a civilized man who sometimes painted his face and body and whooped and hollered with the loudest of them. And when he was in his 90s and he decided it was time to die, he greeted that event with the same "Choctaw chuckle" that had borne him through life.
Purchase your copy of OKLA HANNALI today!