As June winds down to a close, we can't help but plan ahead.  We've got plenty of fun stuff planned for July (stay tuned), but what we're really looking forward to is our August countdown to The Hugo Awards.  The Hugo Awards, presented annually since 1955, are science fiction's most prestigious award, and we're thrilled to report that both Editor John Joseph Adams and Producer Stefan Rudnicki are nominated this year for the very work with Lightspeed we've been going on about all month.  Winners will be announced at LoneStarCon3 in San Antonio, August 29th-Sept. 2nd.  (Yes, of course we'll be there.  We've been invited to speak, so more details on that as they trickle in.)
Therefore, we thought it appropriate to wet your Hugo whistle with our last couple of Lightspeed stories.
First up is AMARYLLIS by Carrie Vaughn, a 2011 Hugo Finalist, and well-deserved.  And because we're such big fans of Ms. Vaughn and because it's, well, Saturday, we're making this one a double feature.  Below you'll also find HARRY AND MARLOWE ESCAPE THE MECHANICAL SIEGE OF PARIS, the latest in her tales of these beloved characters.  And today is actually a true double header, because both stories are narrated by our very own Gabrielle de Cuir.  But first, a little about Carrie:
Carrie Vaughn
 is the bestselling author of the Kitty Norville series.  The twelfth novel, 
Kitty in the Underworld
, is due out in July 2013.  Vaughn has also written young adult novels, 
Voices of Dragons 
and 
Steel
, and the fantasy novels, 
Discord's Apple
 and 
After the Golden Age
.  Her short fiction has appeared many times in 
Realms of Fantasy
 magazine, and in a number of anthologies, such as 
Fast Ships, Black Sails
 and 
Warriors
.  She lives in Colorado with a fluffy attack dog.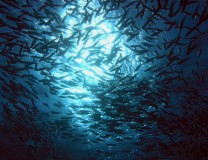 AMARYLLIS is unique because it takes place in a "positive post-apocalyptic future," according to Vaughn, and the result is both a fascinating and believable tale that follows a household at sea as they deal with everything from the trappings of societal mores to what it means to be a mother.  Narrator Gabrielle de Cuir is a perfect fit for this strong female narrator, for this world that may not be too far off from the one we live in today.  Listen below, then read Lightspeed's Author Spotlight on Vaughn to get a sense of both her inspirations and politics.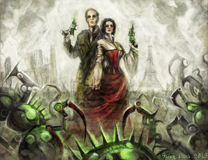 Vaughn has already written a handful of stories about her beloved partners-in-crime, Harry and Marlowe, and for those of you who are fans, you're going to love this one.  HARRY AND MARLOWE ESCAPE THE MECHANICAL SIEGE OF PARIS is the origin story of how the two met, and it's as satisfyingly action-packed as you'd expect.  Once again, Gabrielle de Cuir narrates masterfully, bringing a slightly Victorian edge to this Steampunk story.  Hear it for yourself below, then take a moment to read Lightspeed's Author Spotlight on Vaughn to learn what else she has in store for this duo.
HARRY AND MARLOWE ESCAPE THE MECHANICAL SIEGE OF PARIS AUDIO
Gabrielle de Cuir is a stage actress, director, playwright, and audiobook narrator and producer with dozens of Audie Awards up on the wall.  Her first film, THE DELIVERY, was an Official Selection of the Los Angeles International Children's Film Festival and winner of the Fantasy Award at DRAGONCON Film Festival.  With Stefan Rudnicki, she is the co-founder of Skyboat Media.