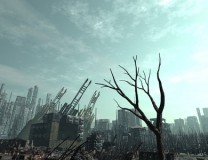 Our very last post for June is Audiobook Month!
Time sure flies when you're wearing headphones.
Yesterday we mentioned the Hugo Awards, and today is no different.  As we begin to look ahead at our upcoming projects and events, little excites us more than LoneStarCon3, the annual massive sci-fi convention we'll be attending come August.  As always, there are some terrific special guests this year: Ellen Datlow, James Gunn, Paul Cornell, and more, not to mention our author of today's story, Mr. Joe R. Lansdale himself.
Lansdale is the author of over 30 novels and more than a hundred short stories (see full bio below) and today we offer one of the latter, TIGHT LITTLE STITCHES IN A DEAD MAN'S BACK, published originally in 1986.  This dark and beautifully detailed story tells the tale of a guilt-ridden scientist in a post-nuke world, trying to make sense of his shattered family.  In an attempt to do so, he turns to the page:
"What's new?
"Well, Mr. Journal, after all these years I've taken up martial arts again—or at least the forms and calisthenics of Tae Kwon Do.  There is no one to spar with here in the lighthouse, so the forms have to do.
"There is Mary, of course, but she keeps all her sparring verbal.  And as of late, there is not even that.  I long for her to call me a sonofabitch.  Anything.  Her hatred of me has cured to 100% perfection and she no longer finds it necessary to speak.  The tight lines around her eyes and mouth, the emotional heat that radiates from her body like a dreadful cold sore looking for a place to lie down is voice enough for her.  She lives only for the moment when she (the cold sore) can attach herself to me with her needles, ink and thread.  She lives only for the design on my back."
What follows is intensely real and terrifying, a world where nothing can ever be the same again.  So if you're looking for a happy ending, keep looking, my friend.  Stefan works his usual magic, embodying our narrator and pulling his listener into this place of slow-motion tattoos, ripped stitches, life-shattering guilt, and plants that have a mind of their own.  Hear it for yourself below, then read one last Author Spotlight with Mr. Lansdale to learn what inspired this dark and disturbing story.
TIGHT LITTLE STITCHES IN A DEAD MAN'S BACK AUDIO
Joe R. Lansdale is the author of over 30 novels and 200 short pieces, fiction and nonfiction.  He has received the Edgar Award, seven Bram Stokers, the British Fantasy Award, and many others.  He's been called "an immense talent" by Booklist; "a born storyteller" by Robert Bloch; and The New York Times Book Review declares he has "a folklorist's eye for telling detail and a front-porch raconteur's sense of pace."  He's won numerous awards, including eight Bram Stoker Awards, the Grand Master Award from the World Horror Convention, a British Fantasy Award, the American Mystery Award, the Horror Critics Award, the Grinzane Cavour Prize for Literature, the "Shot in the Dark" International Crime Writer's Award, the Golden Lion Award, the Booklist Editor's Award, the Critic's Choice Award, and a New York Times Notable Book Award.  His novella, Bubba Hotep, was made into a movie of the same name.
Stefan Rudnicki is a Grammy and Audie Award winner who has narrated and/or produced over 3,500 audiobooks.  He has a dozen published books to his name, and has been seen in more than 80 stage productions on both coasts and abroad.  He is the co-founder of Skyboat Media and Podcast Producer for Lightspeed.