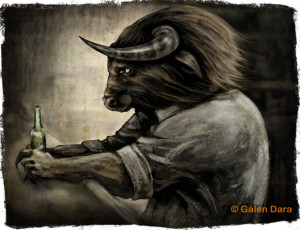 BEAUTY by David Barr Kirtley, is a modernized version of the fairytale classic, Beauty and the Beast.  In Kirtley's world, Nicole and Beast meet in a dark bar, and despite his obvious shortcomings, Beast manages to win her over with his woes of telemarketing and brimstone scent.
"Nicole dated the beast for a few more months.  She began to really like him.  His bloodshot eyes were soft and caring.  His werewolf paws were strong and gentle.  When he slept, he would fold his goblin ears in the most adorable way.  He giggled whenever she poked him on his cute little doggie nose."
But like any fairytale, the spell is eventually broken, and when Beast turns back into the man he used to be, a lot more changes beyond horns and hooves.  Grammy Award-winning singer/songwriter Janis Ian narrates, lending the voice that made her a folk rock legend to this twisted little tale to inspired results.  Hear it for yourself below, then check out Lightspeed's Author Spotlight on Kirtley to learn what inspired this retelling.  And for more on Janis, check out our recent posts on her in our countdown to the 2013 Audies.  (And yep, she won!)
David Barr Kirtley is the author of thirty short stories, which have appeared in magazines such as Realms of Fantasy, Weird Tales, and Lightspeed, in books such as Armored, Other Worlds Than These, and Fantasy: The Best of the Year, and on podcasts such as Escape Pod and Pseudopod.  He recently wrote a 12-part column for Wired.com covering Season 2 of Game of Thrones.  He's also the co-host of the Geek's Guide to the Galaxy podcast, for which he's interviewed folks such as George R. R. Martin, Richard Dawkins, Paul Krugman, and Simon Pegg.  He lives in New York.
Janis Ian was catapulted into the spotlight in 1966 at age 15, when her soul-wrenching song about an interracial relationship, "Society's Child," became a hit, but that was just the start of her illustrious career.  Today she is a Grammy Award winning singer, songwriter, performer, narrator, and author.  In 2013, she won her second Grammy for Best Spoken Word Album for the audiobook of her memoir, Society's Child, produced by Stefan Rudnicki and published by Audible, as well as a 2013 Audie Award for Best Author Narration.  Her songs "At 17" and "Society's Child" are in the Grammy Hall Of Fame.