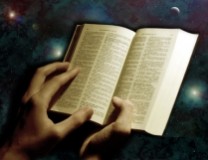 Two days ago we had a story by Ursula K. Le Guin, and today we're thrilled to share work by yet another writer who needs no introduction.  At the moment, George R. R. Martin may be best known for the Season 3 Finale of Game of Thrones, but we're still swooning over this story written way back in 1979, THE WAY OF CROSS AND DRAGON.  Set in the future, a priest struggling with his own beliefs must investigate a mysterious sect that worships Judas Iscariot, and the unexpected experience that follows forces him to face his spiritual doubts head-on.
As narrator for this story, Stefan Rudnicki couldn't be a better choice.  The depths of his voice travel easily through the different characters, settings, even planets!  It's a joy to hear a true great read by a true great! But go ahead and see for yourself.
THE WAY OF CROSS AND DRAGON AUDIO
George R. R. Martin is the wildly popular author of the A Song of Ice and Fire epic fantasy series, and many other novels, such as Dying of the Light and The Armageddon Rag.  His short fiction—which has appeared in numerous anthologies and in most if not all of the genre's major magazines—has garnered him four Hugos, two Nebulas, the Stoker, and the World Fantasy Award.  Martin is also known for editing the Wild Cards series of shared world superhero anthologies, and for his work as a screenwriter on such television projects as the 1980s version of The Twilight Zone and Beauty and the Beast.  A TV series based on A Song of Ice and Fire debuted on HBO in 2011.
Stefan Rudnicki is a Grammy and Audie Award winner who has narrated and/or produced over 3,500 audiobooks.  He has a dozen published books to his name, and has been seen in more than 80 stage productions on both coasts and abroad.  He is the co-founder of Skyboat Media and Podcast Producer for Lightspeed.