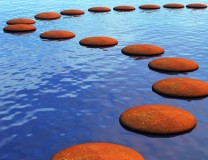 Today, we pay tribute to a very special author.
Over the past few days, we shed light on those recognized by the Parsec Awards, and while today we move on to an author who has not yet won a Parsec, we're pretty sure she doesn't mind.  Not only is Ursula K. Le Guin a living literary legend, but she's also been awarded five Hugos, six Nebulas, and more (see full bio below), not to mention The, ahem, National Book Award.
We're absolutely thrilled to offer Le Guin's wonderful work, THE SILENCE OF THE ASONU, a deceptively simple story that tells the tale of the Asonu people, that asks the question of why, even though they had the ability of language, they chose near-total silence instead:
"This nearly absolute abstinence from language makes them fascinating.
"People who live with animals value the charm of muteness.  It can be a real pleasure to know when the cat walks into the room that he won't mention any of your shortcomings, or that you can tell your grievances to your dog without his repeating them to the people who caused them.
"And those who can talk, but don't, have the great advantage over the rest of us that they never say anything stupid.  This may be why we are convinced that if they spoke they would have something wise to say."
Gabrielle de Cuir narrates in light and joyful tone, letting her listeners in on the curious details of the Asonu people.  But by the very end, the story is perhaps not exactly what you thought it would be, and the twist feels like a delightful little wink from both the author and narrator in cahoots.  Experience it for yourself below, then read another terrific Author Spotlight to hear how this story was inspired by Ms. Le Guin's cat.
THE SILENCE OF THE ASONU AUDIO
Ursula K. Le Guin is the author of innumerable SF and fantasy classics, such as The Left Hand of Darkness, The Lathe of Heaven, The Dispossessed, and A Wizard of Earthsea (and the others in the Earthsea Cycle).  She has been named a Grand Master by the Science Fiction Writers of America, and is the winner of five Hugos, six Nebulas, two World Fantasy Awards, and twenty Locus Awards.  She's also a winner of the Newbery Medal, The National Book Award, the PEN/Malamud Award, and was named a Living Legend by the Library of Congress.
Gabrielle de Cuir is a stage actress, director, playwright, and audiobook narrator and producer with dozens of Audie Awards up on the wall.  She also narrated Ms. Le Guin's THE TOMBS OF ATUAN and CHANGING PLANES.  Her first film, THE DELIVERY, was an Official Selection of the Los Angeles International Children's Film Festival and winner of the Fantasy Award at DRAGONCON Film Festival.  With Stefan Rudnicki, she is the co-founder of Skyboat Media.