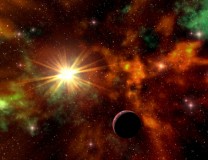 Today we continue on with our Parsec Awards stories with THE TASTE OF STARLIGHT by John R. Fultz, a 2011 Parsec Nominee in the Category of Best Speculative Fiction Story (Short Form).  The title might evoke something lovely or beautiful at first, but don't be fooled.  This tale is as gory as they come—and we mean that as a compliment—a horror/sci-fi hybrid that will leave you simultaneously hungry for more and feeling as though you will never eat again.  (Sorry, folks.  To get that little joke, you'll just have to listen below!)
Narrator Kristoffer Tabori is a dead ringer for this perfectly gruesome space tale, his voice filled with emotion and grit and that classic sci-fi tone.  Hear it for yourself below, then read the Author Spotlight on Fultz to learn more about his literary influences and the complex moral question at the heart of this story.
John R. Fultz lives in the Bay Area of California, but is originally from Kentucky.  His fiction has appeared in Weird Tales, Black Gate, and Space & Time, as well as the comic book anthologies Zombie Tales and Cthulhu Tales.  His graphic novel of epic fantasy, Primordia, was published by Archaia Comics. When not writing stories, novels, or comics, John teaches English Literature at the middle/high school level and plays a mean guitar.  In a previous life he made his living as a wandering storyteller on the lost continent of Atlantis.
Kristoffer Tabori began his career as a stage actor in his teens in the late 1960s, and during the 1970s and 1980s he appeared in many films, including Arthur Miller's A Memory of Two Mondays and Aldous Huxley's Brave New World.  The majority of his work, however, is in television drama, and during the latter two decades Tabori has appeared in dozens of guest roles in many of the medium's most popular shows.  He is an Audie Award-winning audiobook narrator who's read dozens of novels, among them Jack Finney's Invasion of the Body Snatchers and Jeffrey Eugenides' Middlesex, which won the 2003 Audie Award for Best Fiction.