"Johannes Cabal would kill me for saying this, but he's my favorite Zeppelin-hopping detective. The fellow has got all the charm of Bond and the smarts of Holmes—without the pesky morality." —Daniel H. Wilson, New York Times bestselling author of How to Survive a Robot Uprising
And Gabrielle agrees, as she explains her passion for Howard's writing:
Johannes Cabal, "a necromancer of some little infamy," first appeared in two short stories, "Johannes Cabal and the Blustery Day" and "Exeunt Demon King," both published in H. P. Lovecraft's Magazine of Horror. He then made the jump to novels, starting with Johannes Cabal the Necromancer (2009), Johannes Cabal the Detective (2010), and Johannes Cabal: The Fear Institute (2011). And we are delighted to say the fourth novel in this acclaimed, cult-favorite series, The Brothers Cabal, has just been released – in print and on audio!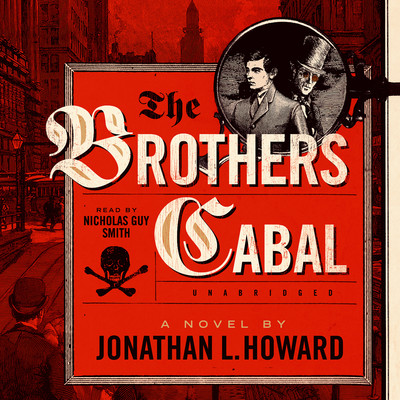 THE BROTHERS CABAL (The Johannes Cabal Novels, Book 4) by Jonathan L. Howard
Read by Nicholas Guy Smith
Horst Cabal has risen from the dead—again.
Horst, the most affable vampire one is ever likely to meet, is resurrected by an occult conspiracy that wants him as a general in a monstrous army. Their plan is to create a country of horrors, a supernatural homeland. As Horst sees the lengths to which they are prepared to go and the evil they cultivate, he realizes that he cannot fight them alone. What he really needs on his side is a sarcastic, amoral, heavily armed necromancer.
As luck would have it, this exactly describes his brother.
"Howard makes it look easy to paint a soul-stealing murdering necromancer as a sympathetic character; that, folks, is worth the price of admission." —The San Diego Union-Tribune
So just who is the man behind the necromancer? Jonathan L. Howard is a novelist, game designer, scriptwriter, and a veteran of the computer games industry who is best known for his reoccurring protagonist, Johannes Cabal. He has also authored the YA novels Katya's World and Katya's War, as well as the current ongoing episodic "prose comic" Goon Squad (which we have also brought to audio – hop on over to our GOON SQUAD blog post!). He lives in the United Kingdom with his wife and daughter.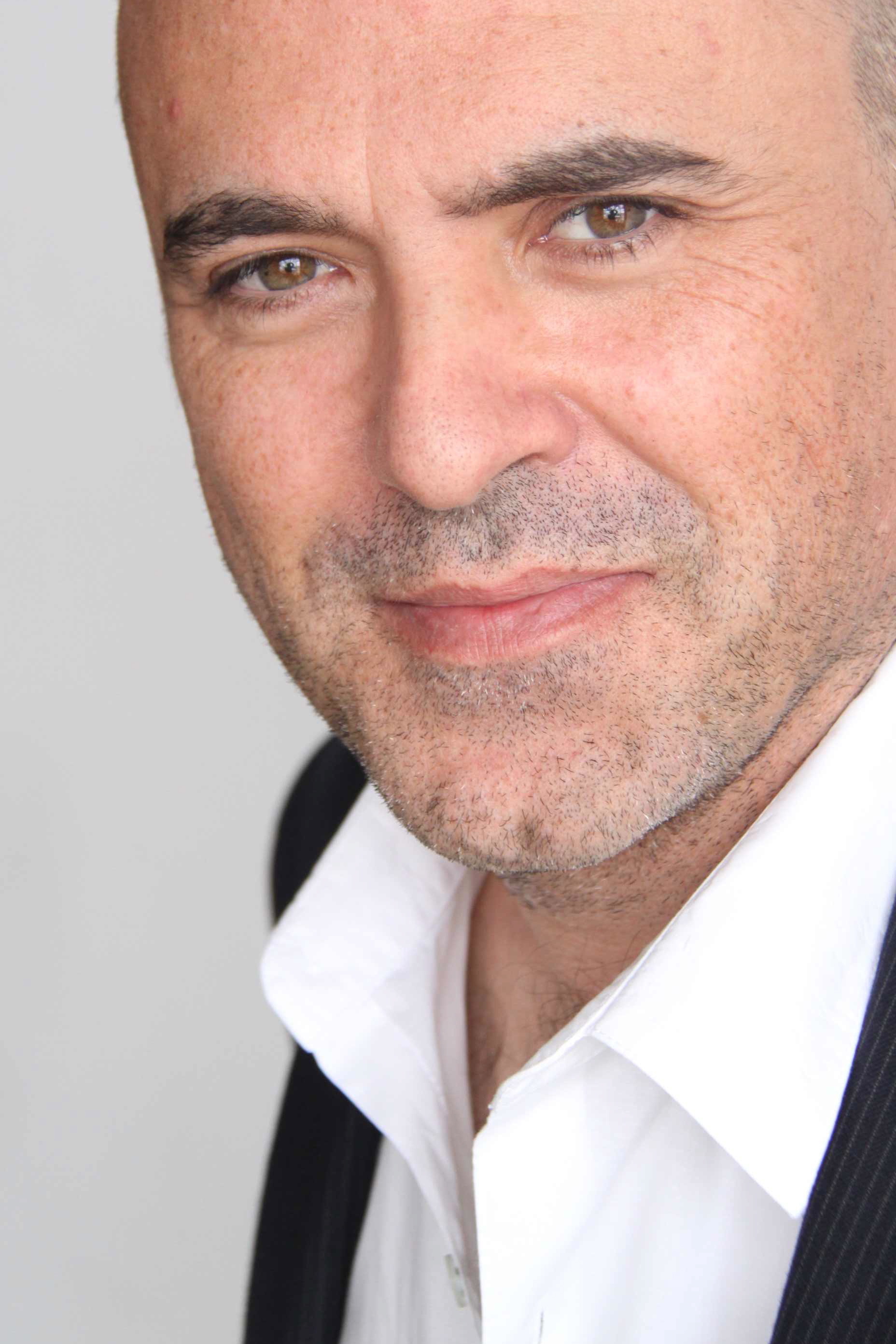 And how about that narrator? Oh yes, Nicholas Guy Smith, a fellow Brit, in fact. A postgraduate of Cambridge University, England, Nicholas is a highly rated and diverse voice-over actor who has been heard in feature films, TV commercials, and video games. He has voiced characters for Disney, Warner Bros., Universal, and the Cartoon Network. He is also an accomplished abstract expressionist artist and a professor of Speech Communication.
And once Nicholas delved into the world of Johannes Cabal, well, we just couldn't pry the script out of his hands. Um, we're serious. So not only did he voice Book 4 but he also followed that up with Book 3 and Book 5! (We thought Johannes would forgive us for going out of order. And after reading a review like this, can you really blame Nicholas for wanting to keep narrating? Have a soul!)
Watch this video to see how this magnificent actor went about creating these characters on audio: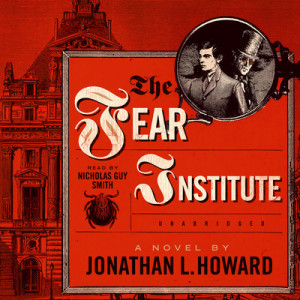 JOHANNES CABAL: THE FEAR INSTITUTE (The Johannes Cabal Novels, Book 3) by Jonathan L. Howard
Read by Nicholas Guy Smith
Johannes Cabal and his rather inexact powers of necromancy are back once more. This time, his talents are purchased by the Fear Institute as they hunt for the phobic animus—the embodiment of fear. The three institute members, led by Cabal and his silver key, enter the Dreamlands and find themselves pursued by walking trees plagued with giant ticks, stone men that patrol the ruins of their castles, cats that feed on human flesh, and phobias that torment and devastate. The intrepid explorers are killed off one by one as they traipse through this obfuscating and frustrating world, where history itself appears to alter. Cabal, annoyed that the quest is becoming increasingly heroic, finds himself alone with the institute's only remaining survivor, and after a shockingly violent experiment, begins to suspect that not everything is quite as it seems. 
---
"Fans of Howard's witty prose and morbid humor will not be disappointed; his characteristic blend of horror, comedy, fantasy, and drama is particularly effective in this installment. Cabal remains an entertaining antihero whose complexities have deepened over time, and the conclusion of the narrative threads that have spanned the previous four Cabal books is both satisfying and touching." —Publishers Weekly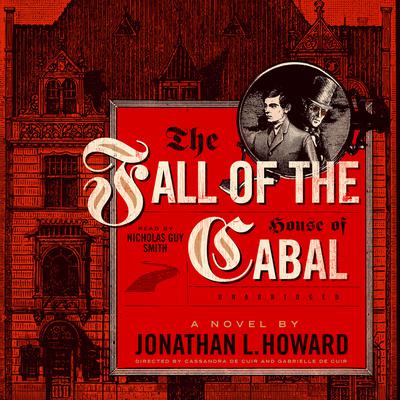 THE FALL OF THE HOUSE OF CABAL (The Johannes Cabal Novels, Book 5)
Read by Nicholas Guy Smith
Johannes Cabal, a necromancer of some little infamy, has come into possession of a vital clue that may lead him to his ultimate goal: a cure for death. The path is vague, however, and certainly treacherous as it takes him into strange territories that, quite literally, no one has ever seen before. The task is too dangerous to venture upon alone, so he must seek assistance, comrades for the coming travails.
Assisted—ably and otherwise—by his vampiric brother, Horst, and by the kindly accompaniment of a criminologist and a devil, they will encounter ruins and diableries, mystery and murder, the depths of the lowest pit, and a city of horrors—London, to be exact.
Yet even though Cabal has risked such peril believing he understands the dangers he faces, he is still underestimating them. He is walking into a trap of such arcane complexity that even the one who drew him there has no idea of its true terrors. As it closes slowly and subtly around them, it may be that there will be no survivors at all.
---
But, while Nicholas took over Cabal, Jonathan actually squeezed in some narrating himself – reading Rhonda Eikamp's "The Case of the Passionless Bees" for the Women Destroy Science Fiction Issue of Lightspeed Magazine.
"Howard's characters, relentless imagination, twisting plotlines, and use of language make the Johannes Cabal series a real pleasure to read" –Richard Kadrey, author of Sandman Slim novels
We would add: and listen to!
---
Can't get enough Johannes Cabal? Neither can we! 
Well, guess what? This time we went back even farther – to the very first short story Cabal appeared in. And then threw in some other tales. And topped it off with an introduction written and recorded by none other than Jonathan L. Howard himself. The result? A delightful mix, if we say so ourselves.
"Narrator Nicholas Guy Smith leads the listener through this ghoulish collection of short stories, his charming British accent accentuating the heavy dash of dour humor that pervades Cabal's universe." —AudioFile Magazine
JOHANNES CABAL AND THE BLUSTERY DAY: AND OTHER TALES OF THE NECROMANCER by Jonathan L. Howard
Read by Nicholas Guy Smith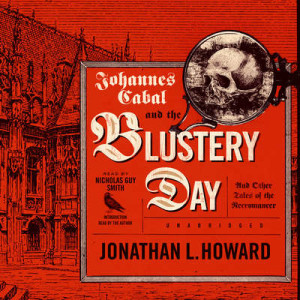 Introduction – read by Jonathan L. Howard
Exeunt Demon King
The Ereshkigal Working
Johannes Cabal and the Blustery Day
The House of Gears
The Death of Me
Ouroboros Ouzo
A Long Spoon
Everyone has to start somewhere, including Johannes Cabal.
Narrator Nicholas Guy Smith returns as everyone's favorite ill-tempered necromancer.
Listen as he faces some unique questions, such as:
"Are you exothermic or endothermic?" (A Long Spoon)
As he doles out the occasional putdown:
"They're all twinkle dust and no trousers." (The Death of Me)
As he deals with life's challenges:
"The Bonewind is Coming." (Johannes Cabal and the Blustery Day)
As he imparts much-needed advice:
"It's just that your current course of action can only help the walking dead I see out there, by inevitably bolstering their numbers." (The Ereshkigal Working)
And heeds much-needed advice:
"Be on your guard against the ones where you end up dead and buried, dead and wandering around, or a solicitor." (Ouroboros Ouzo)
This is the first time all of these stories have been gathered in one place. That's right, folks. This unique collection is only available on audio (pretty fitting for the one-of-a-kind necromancer, eh?)
So there you have it. Four chances to jump into the wild world of Johannes Cabal, a world which has inspired its own (gorgeous) fan-operated tumblr. Get started and purchase your copies on downpour.com today! And for more from the delightfully twisted mind of Jonathan L. Howard, visit our blog featuring his "prose comic" series GOON SQUAD!