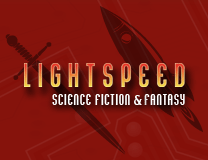 Books come and go.  Once they arrive, we research them, cast them, record them, edit them, and then turn them in.  And then the whole process begins again, or quite honestly, there are usually several of these processes happening simultaneously.  One project at a time?  Ha!  You kid.
But while books fly in and out of our soundproof door day in and out, we find a certain comfort in that one project that's simply here to stay.  Lightspeed.
If you check in with us regularly, you already know that Skyboat produces a handful of podcasts for Lightspeed Magazine each month with John Joseph Adams and the editing talents of Jim Freund, and if you missed our spotlight on Lightspeed for June is Audiobook Month, feel free to lose a few hours of your day getting caught up.  You won't be sorry.
Sure, we're a little biased because we produce them, but honestly, these podcasts are great because the writing is great, and we're talking tales from everyone from a previously unpublished author to Ms. Le Guin herself, literally.  The latest issue—JULY 2013—just happens to be filled with some truly wonderful doozies, so enjoy!
THE STARS BELOW, written by the inimitable Ursula K. LeGuin and narrated by Stefan Rudnicki.
CANCER by Ryan North, read by Gabrielle de Cuir.
DIVISION OF LABOR by Benjamin Roy Lambert, read by Paul Boehmer.
THE BOY AND THE BOX, written by Adam-Troy Castro and read by Stefan Rudnicki.
Be sure to check out the rest of the issue here!  More fantastic fiction, great author and artist spotlights, and some smart nonfiction to boot!