"Carol Schlanger's wild ride of a memoir gallops hilariously through the early seventies commune experience that all of us old hippies meant to have. She has the perfect voice of her generation. Honest, rebellious, sensual, politically astute, she's invited us into history to live and love through her. We dare not pass up the opportunity because being Carol is in itself an adventure." —Barbara Bottner, New York Times bestselling author
Carol Schlanger is an award-winning playwright, actress and performer. Returning from the Oregon wilderness to professional life in Los Angeles, she was part of KCET's Emmy-nominated Airwoman and won character roles in major motion pictures and on network television. While raising a family, she became a comedy writer for Imagine Entertainment and scribed two sitcom pilots for CBS. Her darkly comic and cutting-edge vision has allowed her to work in a variety of venues, including stage, screen and television. She is an Obie (Off-Broadway Theatre) Award and Humanitas Prize (Television) nominee, a recipient of Los Angeles Drama-Logue Award for both performance and writing (Theatre) and placed 1st in 2010 Alliance of Los Angeles Playwrights' monologue slam.
You know a memoir that starts with "I'm lying naked in a hammock that's strung between two ancient alders while listening to the rat-tat-tat of a giant woodpecker" is going to be good, and, boy, does Carol deliver…both on the page and in the booth. That's right. Under the precise direction of veteran Skyboat director Claire Bloom, Carol opted to narrate the audiobook of this wild tale of her real-life adventures herself. She and Claire made quite the pair. And, speaking of pairs, Skyboat is proud to partner with Blackstone Publishing to publish this audiobook.
---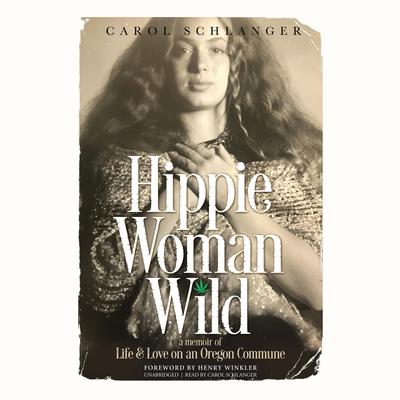 HIPPIE WOMAN WILD: A Memoir of Life & Love on an Oregon Commune, written and read by Carol Schlanger 
A not-so-nice Jewish girl, expelled from Yale Drama during the Vietnam protests, abandons her acting dream to follow the man she loves to an off-the-grid commune in Oregon.
At 23, Carol Schlanger was an insecure upper middle class radical. Her parents spoiled her, and she expected the universe to follow. It didn't. After being expelled from Yale, losing a coveted Broadway lead, and seeing a suicide splatter at her feet, she left NYC for the Great Northwest, to live in nature with a man "who made everything beautiful with his hands". At that time she chose love and nature over art and career…until she didn't.
Carol Schlanger put "hidden" cash down on an abandoned homestead – 160 acres. The commune followed – all 13 jammed tight into a broken-down cabin with no phone, no electricity, and no running water. They were dependent on each other for every human need and survival. But then freeloading and free love threatened the hard-won utopia. After struggling through infidelity, rape, and childbirth, all except the father of her child left when Carol refused to share land ownership. When, as a lone wilderness "wife", she accidentally set their house on fire, she realized she couldn't survive in isolation.
Strapping her toddler into a battered old Chevy, she headed to Los Angeles to reclaim her life as a mother, her power as an artist, and her responsibility as an adult. This time her Texan followed her. This is both their love story and a love story for an explosive, mind-altering era.
---
And there's another Skyboat connection! Carol and Stefan Rudnicki both attended Yale School of Drama together, along with Henry Winkler, who lent his support by writing the Foreword to HIPPIE WOMAN WILD. Stefan happily stepped in (to the booth) and narrated the Foreword on Henry's behalf.
"Carol presents her natural world in a way that put me right there with her—I could hear the wind, inhale the fresh air and see the stars at night." —from the Foreword by Henry Winkler (read by Stefan Rudnicki)
We couldn't have said it better ourselves. Listen to a free sample here and then purchase your copy today!