"This is a rollicking, thought-provoking, rollercoaster of a novel. It's time traveling on steroids, but it asks big questions. Bravo." —Ken Burns, filmmaker
Jim Metzner is best known as the producer and narrator of radio series and podcasts, including Pulse of the Planet, currently broadcast on 250 public and commercial stations to an audience of over one million listeners every week. Since 1985, Jim Metzner Productions has been creating compelling and memorable content for a wide range of diverse clients, including the Museum of Natural History, National Geographic and NASA. (So when a famous singer wanted to use recordings from outer space, she knew just where to turn to get those extra-terrestrial "sounds.")
Jim began researching SACRED MOUNDS years ago, visiting mound sites throughout the southeastern United States. In Mississippi, Jim met with members of the Natchez tribe, the last known group to inhabit the mounds, and participated in several of their ceremonies at their invitation.
"There are not enough words to fully outline the rich, complex and historically and culturally accurate setting of this tale of supernatural heroism. The novel folds ancient traditional wisdom into the seams of its story with the author's well-honed narrative skills, delivering the tastes and flavors of its mingling times and cultures with ease and aplomb." –Lee Van Laer, Senior Editor, Parabola Magazine
So when Jim, with over 40 years of producing award-winning audio behind him, thought about creating an audiobook for his own novel, he knew just where to turn: Skyboat Media.
Skyboat is proud to produce the SACRED MOUNDS audiobook. Jim narrates the story, with a foreword written and read by Hutke Fields, Principal Chief of the Natchez Nation. And the audiobook includes Natchez Social Songs, sung by members of the tribe, recorded at the Grand Village in Natchez, Mississippi by the author. Special shout-out to Phaseshift AV, our incredible post-team, for seamlessly weaving the narrative and music together to create this rich audiobook experience! We are also thrilled to partner once again with Blackstone Publishing for audio distribution. The print edition is available from Adelaide Books.
"Archaeologists know how the earthworks were built, but excavations cannot reveal what these monuments meant to the native people who built them. With Sacred Mounds, Metzner embraces the mystery to weave a story across time and cultural boundaries."

—

Jim Barnett, author of "The Natchez Indians: A History to 1735"
---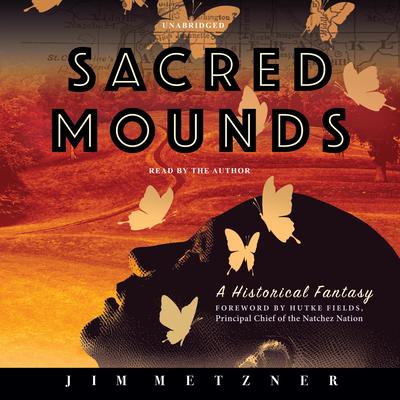 SACRED MOUNDS written and read by Jim Metzner. Foreword written and read by Hutke Fields, Principal Chief of the Natchez Nation
Cyclonic hordes of insects, a telepathic despot, body-swapping sex – just a few of the surprises Salvador Samuels encounters when he's swept back to precolonial times, walking in the moccasins of a blind Indian – who, in turn, has been transported into Salvador's body in present-day America.
Four hundred years apart, they're bound by a mission to rescue our world, aided by the mysterious presence of the mounds. Thousands of these ancient earthworks once dotted the landscape of North America. We still don't know why they were created. Sacred Mounds suggests they are as important today as when they were made over a thousand years ago.
Sacred Mounds weaves the stories of two men, each a stranger in a strange land. With the help of two remarkable women, they must find a way to save our planet and return home.
---
"Brilliant, colorful, panoramic, moving, adventurous, gripping…!!"–David Hykes, founder and director of the Harmonic Choir
As his legions of global fans will attest (and you can find even more glowing audiobook reviews from luminaries here), there is something special about Jim Metzner's work. Listen to an audiobook sample on Skyboat's SoundCloud, and then immerse yourself in this rich story of magical realism and purchase your copy today!