In 399BC, Socrates went on trial, defending himself against charges of impiety and corrupting the youth of Athens. He was found guilty and sentenced to death, but thanks to the fact that his student Plato was in the audience (among others), the intelligent, illuminating, and heartfelt words that Socrates shared as a means of explanation for his actions still live on today, known simply as The Apology.
Enter Yannis Simonides, an incredibly accomplished Greek writer, actor, director, and producer who has been performing The Apology of Socrates as an "80 minute solo performance in which…Simonides channels the eccentric yet magnetic personality of Socrates and offers a profoundly social, political, but above all human work which captivates the audience with the humor, immediacy and simplicity of its theatrical rendition." What's incredible is that a text written over 2,000 years ago still rings so incredibly true today. See what we mean in the video above.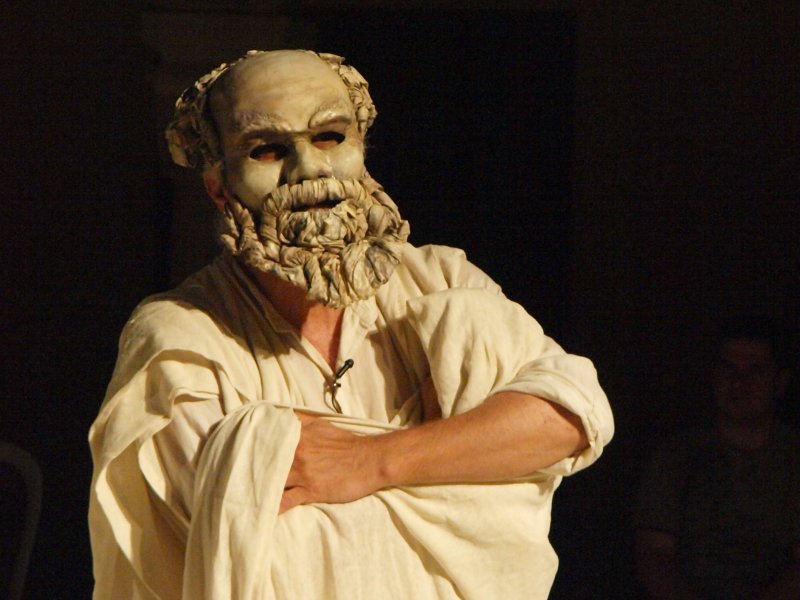 For the past several years, the play has been received to great acclaim, but in 2012, inspired by a need for change and a desire to reach greater audiences with this incredible text, Simonides began to re-imagine the work. He retitled it Socrates Now, and decided to team up with dear friend and fellow Yale alum, Stefan Rudnicki, as Director/Producer. Since then the two have been working together—brainstorming, studying, experimenting, rehearsing—to breathe new life into this one-of-a-kind theater piece in preparation for what will surely be an extremely successful and exciting stateside run in 2014.
And of course this wouldn't be a full Skyboat Media production without an audiobook! Yannis has put in his studio time by recording an audio version of Socrates Now under the velvet glove of Directress Gabrielle de Cuir, and the wonderful result is available now thanks to Blackstone Audio. Catch a sneak peek of Yannis in the studio above, and rest assured that while Yannis' tongue flows with the musicality of Ancient Greek, the text moves to English a few lines in. And get your own copy of the audiobook now!
And if you're not already, please follow us on Twitter for the latest news for the forthcoming productions of Socrates Now!