"I'm going to say this is the true business, from beginning to end.  I'm going say my name is Dorothy Sherman and I'm telling it like it is.  I'm going to say my friends call me Dot, and I prefer my enemies not to call me at all.

Is this a great adventure?  Well, no one goes to the moon or climbs a high mountain. But for me it's an adventure.  It's my day to day life."  –from Fender Lizards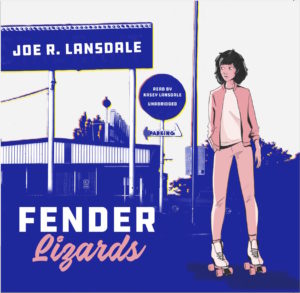 Skyboat Media continues its love affair with Joe R. Lansdale by bringing FENDER LIZARDS to audio.
Narrator Kasey Lansdale breathes wonderful life into one of fiction's most authentic voices as Dorothy Sherman aka "Dot." Yes, she is the author's daughter (lucky you.)
Dot's a 17-year-old high school dropout from East Texas.  She works at the Dairy Bob as a roller-skating waitress known as a "fender lizard."
Things have not been easy.   When Dot was twelve, her dad went out for cigarettes and never came back. She shares a trailer with her mother, younger brother, and rather large grandmother.  Her half-sister Raylynn is a fellow waitress at the Dairy Bob. Understandably, Dot's concerned about becoming just like her, with two kids and a layabout man to support.
As Dot says, "I'm going to pause here a moment while envy sets in on you."
Things do start looking up when Uncle Elbert moves his camper into the front yard, though.
If there's anyone who can turn things around and make a better life for herself, it's Dot. And you'll enjoy listening to every bit of it.
Here's what Adam-Troy Castro had to say about Fender Lizards:
"I wanna tell you about it in the way one wants to tell everybody about any book that made him grin, that made him laugh, that made him deeply fall in love with fictional people. I want to have a crate filled with copies of this book and I want to give them to people as gifts. I did not expect this book."

(Read the full review here.)
That pretty much sums it up.
Purchase your copy of FENDER LIZARDS today.
If you want more Joe R. Lansdale on audio, check out these Skyboat productions.                   Available on downpour.com.
About the author:  Joe R. Lansdale is the author of over forty novels and numerous short stories. He's the recipient of the Edgar Award, ten Bram Stoker Awards, the Horror Writers Association Lifetime Achievement Award, and many others.  The Sundance Channel has adapted his Hap & Leonard novels for television.  He lives in Nacogdoches, Texas with his wife, dog, and two cats.
About the narrator:  Kasey Lansdale, first published at the tender age of eight by Random House, is the author of several short stories and novellas, as well as the editor of assorted anthology collections, including Subterranean Press' Impossible Monsters. She is best known as a Singer/Songwriter. Most recently, you can hear Lansdale as the narrator of various works, including George R.R. Martin's Aces Abroad, and in George A. Romero's last installment, Nights of the Living Dead.