Having already mastered the martial arts realm, Danielle M. Orsino is taking on her biggest challenge to date: the debut of her fantasy novel, BIRTH OF THE FAE: LOCKED OUT OF HEAVEN. Training for over 20 years and with over 500 tournament wins, she has accumulated national and world titles. She has performed for former U.S. President Bill Clinton, has been featured on Soap Talk, Fox Five news, CBS, TLC, and E!, and has worked with the likes of martial arts legends Vincent Lyn and Dwayne "The Rock" Johnson. Just how did Danielle make the journey from martial arts to mythological worlds?
"It all started in an IV room four years ago." In addition to her martial arts prowess, Danielle has a Bachelor's degree in Kinesiology and Exercise science and is an LPN with a special interest in Lyme disease research. While working as a nurse, a patient asked Danielle to tell him a story to distract him during his long treatment sessions. Danielle generously obliged. Drawing from her passion for comic books, cosplay, and the fantasy genre, she crafted an entertaining tale that captivated not just her patient but also her own imagination, and lo and behold The Birth of the Fae series — a fantastically epic adventure of heartbreak, hope and rebirth — was born.
"So get ready. Pack up your bags and allow your new tour guide to take you by the hand and lead you into an intriguing new world. And the best part? When Orsino has you riding on the back of one of her dragons, the view of your new favorite place is going be spectacular." —New York Times bestselling author Clete Barrett Smith
Skyboat is proud to publish THE BIRTH OF THE FAE: LOCKED OUT OF HEAVEN on audio! Skyboat's Gabrielle de Cuir and Stefan Rudnicki were immediately taken with Danielle's distinctive writing style, and we are delighted to bring her work to new fans in the audiobook world. Danielle was very involved in the audiobook production, including recording pieces of the audiobook herself. And each audiobook includes a Bonus PDF with the map of Veil and gorgeous illustrations by PandiiVan!
Listen to an audiobook sample on Skyboat's SoundCloud!
She tilted her chin upward, facing the sunlight. She pulled her shoulders back as if her wings would reform in the moment. Her will unshakeable, she was as obstinate as the mountain she stood upon. She extended her arms over her head in mock worship. "I will rise again, and it will not be by Your blessings but by my own mastery! I will fly with my own wings. One way or another, I will hear the wind again. The next time I grasp power, I will never allow anyone to take it from me. Ever."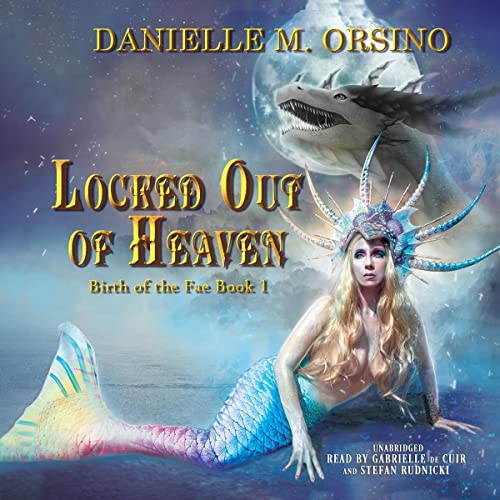 BIRTH OF THE FAE: LOCKED OUT OF HEAVEN (Birth of the Fae, Book 1) by Danielle M. Orsino
Read by Gabrielle de Cuir and Stefan Rudnicki
Ride on the backs of fire breathing dragons with the Dark Fae and watch the Light Fae play in the shadows of primitive humanity as they build their magical world.
Abandoned by their creator, two factions of powerful angels remain on earth after the Great War with Lucifer. They struggle to comprehend their Creator's plan while their angel wings, a symbol of their angelic lineage, slowly and painfully decay. With no hope of returning to the Shining Kingdom, two groups of angels denounce their angelic lineage and develop into separate factions – the Court of Light, led by Queen Aurora, a former Virtue Angel, and the Court of Dark, ruled by King Jarvok, a former Power Brigade Angel. The two monarchs have opposing views on how to govern their kin, but the one belief they agree on is that human worship equals power.
Birth of the Fae: Locked Out of Heaven is an epic fantasy adventure of heartbreak, rebirth, and hope that examines the bonds of family, friendship, and love. It is a fantastic tale of good vs evil in a beautiful world, where the Light Fae and their potent elemental magick are tested by the raw power of the dragon riding Dark Fae warriors.
Purchase your copy of BIRTH OF THE FAE: LOCKED OUT OF HEAVEN today!