Avram Davidson, little known to today's fans, was one of the most influential authors of imaginative stories of his time (1950s-70s). Skyboat Media is committed to bringing his work the attention it deserves.
"Avram Davidson was one of the finest writers the fantasy field has had, endlessly inventive and uniquely vivid." –Poul Anderson
Davidson wrote 19 novels and over 200 short stories which have been widely recognized for their wit and originality. Davidson's works have won awards in three genres: an Edgar Award for mystery, a Hugo Award for science fiction, and three World Fantasy Awards.
"It is hard to imagine the genre that could encompass him; it is even more difficult to imagine fantasy or science fiction without him." –The Encyclopedia of Science Fiction
THE BOSS IN THE WALL, A TREATISE ON THE HOUSE DEVIL was the result of years of collaboration between Avram Davidson and Grania Davis. Initially drafted as a sprawling novel, THE BOSS IN THE WALL then morphed into a novella, which Avram died before completing. Grania Davis, who was – in Peter S. Beagle's words – "Avram's former wife, occasional collaborator, literary executor and splendid, tireless editor" edited the novella into its now-final form.
Grania Davis (1943-2017) wrote Dr. Grass (1978), The Rainbow Annals (1980), The Great Perpendicular Path (1980), and Moonbird (1986). She was married to author Avram Davidson from 1962 to 1964 and collaborated with him on several works including THE BOSS IN THE WALL (1998), which was nominated for the Nebula and Locus Awards, and Marco Polo and the Sleeping Beauty (1987).
After Avram's death in 1993, Grania co-edited collections of his stories, including THE AVRAM DAVIDSON TREASURY (1998, with Robert Silverberg) which won the 1999 Locus Award for best collection. With Gene Van Troyer, she edited Speculative Japan: Outstanding Tales of Japanese Science Fiction and Fantasy (2007).
THE BOSS IN THE WALL, A TREATISE ON THE HOUSE DEVIL features introductions by Peter S. Beagle and Michael Swanwick. Peter S. Beagle has won the Hugo, Nebula, Mythopoeic, and Grand Prix de l'Imaginaire awards. He is also the recipient of the World Fantasy Award for Lifetime Achievement and the Damon Knight Memorial Grand Master Honor. Winner of five Hugo Awards, Michael Swanwick is an icon within the fantasy community. He has received the Hugo, Nebula, Theodore Sturgeon, and World Fantasy Awards for his work.
"I call this story a jewel, and I stand by my words. It is a rare thing when a collaborative work can stand among a writer's best. But this is no ordinary collaboration, and Avram Davidson was no ordinary writer." –Excerpt from "Strange Inhabitants and Unknown Boundaries," Michael Swanwick's introduction to THE BOSS IN THE WALL. Introductions read by Jim Meskimen
---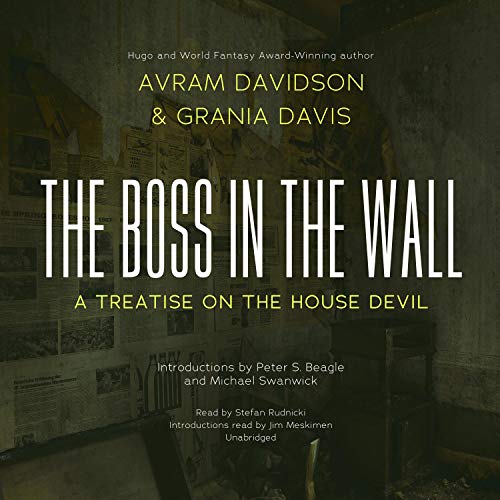 THE BOSS IN THE WALL, A TREATISE ON THE HOUSE DEVIL by Avram Davidson & Grania Davis. Introductions by Peter S. Beagle and Michael Swanwick.
Read by Stefan Rudnicki. Introductions read by Jim Meskimen
Nominated for the Nebula Award for Best Novella (1998)
Professor Vlad Smith is on a terrifying quest, one that will take him from the halls of our most hallowed institutions to the most run-down of old houses in blighted neighborhoods. A mysterious committee, shredded yellowed newspapers, a daguerrotype of a Confederate soldier, a headless corpse and a corpseless head….
These are the clues which Smith must piece together to save his sanity and his daughter, and uncover the terrible secret of the Boss in the Wall. 
---
"But for those of us who love the way that words are put together, how they can be made to clash and chime, the hip-hop rhythms of the street and Gregorian sonorities of formal prose, Avram's work is a feast of delights." –Excerpt from Michael Swanwick's introduction to THE BOSS IN THE WALL
Luminary authors demand narrators of equal caliber. Skyboat's Stefan Rudnicki narrates the audiobook and Jim Meskimen reads the introductions. As a professional actor for nearly thirty years, Jim has appeared in the films Apollo 13, The Grinch, Frost/Nixon, The Punisher, Not Forgotten, There Will Be Blood and many others. Some of Jim's TV credits include Friends, Whose Line is it, Anyway?, Fresh Prince of Bel Air, Castle, Lie to Me and Rules of Engagement. An established narrator and long-time friend and collaborator of Skyboat, Jim put his acting chops to work in the recording booth. And he is the perfect collaborator to set the stage for Stefan's powerful narration of this deeply imaginative and truly terrifying tale.
---
In addition to being an extraordinary editor and collaborator, Grania Davis was also a talented author in her own right, and Stefan Rudnicki was delighted to narrate one of her novels.
Narrator Stefan Rudnicki's thoughts on DR. GRASS:
"Really interesting. Clear, vivid characters. And the daily hospital details are amazing. It feels so authentic. The procedural minutiae as well the ethical issues. And, of course, there's the humor. It's certainly one of the oddest novels I've ever read. Page by page funny, but also fascinating…in almost the same way that a train wreck is fascinating. Gruesome, but you can't turn away. Fine writing, any way you look at it. And smooth, from a narration perspective."
---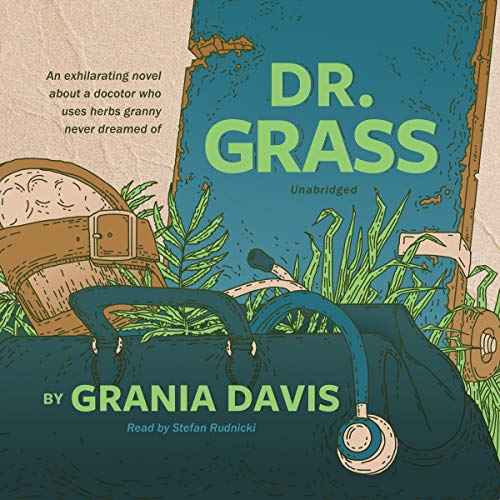 DR. GRASS by Grania Davis
Read by Stefan Rudnicki
An MD as outrageous as your doctor's bill.
Ernie Spiegelglass gets high, gets involved, and is about to complete his residency…he hopes.
Brash, brilliant, and often profane, Ernie (alias Doc Sparrowgrass) enters the world of a San Francisco clinic and turns the entire place upside down with his riotous romances and his own unique style – which includes treating patients like people. The medical establishment is turned off to his idea of medicine – from the heart, not by the book – but Ernie can't turn his back on anyone who comes to him for help, even if it means jeopardizing his career.
Dr. Grass is a funny, honest, poignant book about a refugee from the 1960s growing up and not selling out in the 1970s.
---
"Davidson may be always doomed to be underappreciated, but he remains a true original and, in his own subtle way, one of the greats." –The St. James Guide to Fantasy
As you can see, Skyboat is committed to preserving the legacies of Avram Davidson and Grania Davis. In fact, next up is THE AVRAM DAVIDSON TREASURY: A TRIBUTE COLLECTION edited by Robert Silverberg and Grania Davis, with Afterwords by Ray Bradbury and Harlan Ellison. Stories spanning the decades. Introductions from renowned writers. Multi-voice narration by an ensemble of stars. Not to be missed. Visit our blog post here!
And don't forget to purchase your copies of THE BOSS IN THE WALL, A TREATISE ON THE HOUSE DEVIL and DR. GRASS.