And Stefan Rudnicki joins the series.
The author:
Suzanne Leonhard was born and raised in the beautiful Pacific Northwest. She's published with HarperCollins and has also written several screenplays. Along with a Readers' Favorite Gold Medal, she's won a Romantic Times Reviewers' Choice Award and also earned a first place win in the AAA Screenwriting Competition.
Suzanne currently lives in sunny Florida with her husband, Bible scholar and fellow author, Robert R. Leonhard. She enjoys theological discussions, heart-racing movies, and living by the ocean — and connecting with fans, so say hello on social media.
---
"The story combines a dedication to deep character development with effective dialogue that feels highly realistic of the time and place and offers a truly cinematic atmosphere of the wastelands of the world, giving a visual and visceral reading experience."—K.C. Finn's review of PROPHET for Readers' Favorite
The series:
PROPHET: A POST-APOCALYPTIC THRILLER (The Goliath Code Series, Book 2)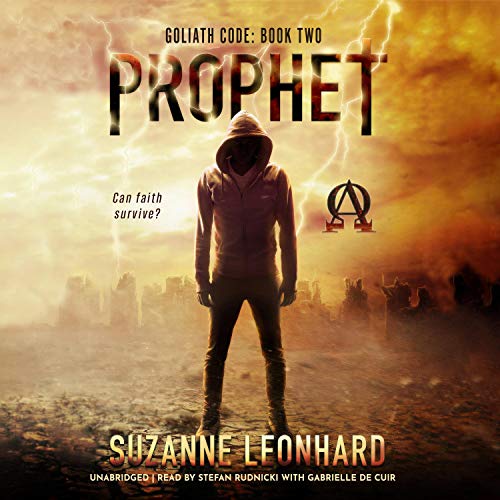 Read by Stefan Rudnicki with Gabrielle de Cuir
IndieBRAG Medallion Gold Medal in the Christian Thriller Category
The exciting sequel to the award-winning, best-selling thriller The Goliath Code
In the shadow of the serpent….
Micah Abrams has been transformed. No longer the bully who tormented David Donner, he faithfully follows a divine mission to spread hope and healing across the ashy wastelands of the Pacific Northwest. But when Sera Donner is taken from him once again, doubt comes prowling for Micah's own soul, and he makes a shocking choice that changes everything.
Running from an enemy he once believed couldn't destroy him, adrift in a lawless land where people will do anything to survive, Micah must come to grips with a God whose power is perfected in weakness. Can the fledgling prophet's faith endure? Or will the darkest time in human history drag this chosen one of Yahweh down to destruction? 
---
Want to catch up with the series first? We have you covered!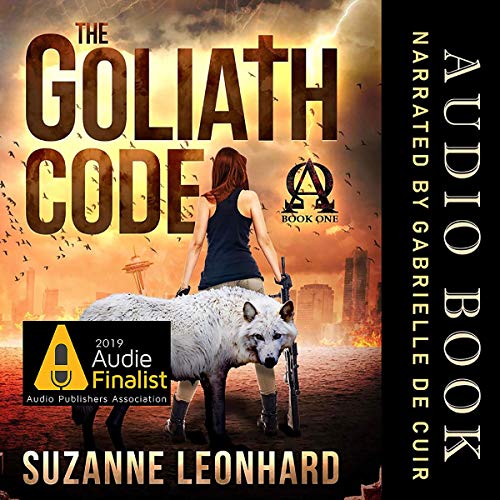 THE GOLIATH CODE: A POST-APOCALYPTIC SURVIVAL THRILLER (Goliath Code Series, Book 1)
Read by Gabrielle de Cuir
Audie Award finalist for Faith-Based Audiobook of the Year 2019
IndieBRAG Medallion for Excellence in Independent Publishing
Wishing Shelf Awards Red Ribbon winner 2017
The end has come, and there's nowhere to hide.
America is a wasteland trapped in a suffocating volcanic winter. Millions are dead or missing, and precious resources are running low. Cloaked in a smothering haze of darkness and doubt, hopeful citizens in 16-year-old Sera Donner's small mountain town of Roslyn, Washington, bend their efforts toward survival, believing unity will save them. Their solidarity soon dissipates into a toxic mixture of greed and fear when the new survivalist regime begins deciding who will live and who will die. Sera's disabled twin brother is at the top of their kill list. 
Steadfast Micah Abrams is Sera's only comfort in the chaos, but he's placed his faith in an ancient hope that she finds difficult to understand. With her brother's life on the line, can she really trust a schoolyard bully suddenly turned prophet? 
As the bloody battle within the community reaches a shocking climax, a powerful military leader marches into town with an imposing force, offering food, water, and promises of salvation. Everyone in Roslyn thinks the worst is finally over. 
They're wrong. 
---
And the series is not done yet! Goliath Code Book 3 is coming soon. Will you be ready? Purchase your copies of THE GOLIATH CODE and PROPHET today!