Unabridged
Release Date: December 9, 2014
Director: Susan Hanfield / Publisher: Skyboat Media & Blackstone Audio
A practicing physicist, Benford writes plausible hard SF as well as anyone on the planet, and his portrait of Mars is among the most believable in recent genre literature.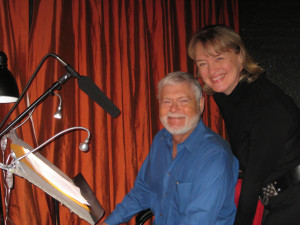 Gregory Benford does it all. He's a professor of Physics at University of California, Irvine, a prolific author of over twenty short story collections, novelettes, and novels (including 2 Nebula winners), a TV host and scriptwriter, and an ardent anthologist.
We here at Skyboat are huge fans of Benford's work, and The Martian Race is no exception.  
Downpour.com summarized it best: When an explosion of the rocket launching the Mars Transit Vehicle kills four crewmen, the US decides to redirect its energies to near-Earth projects, killing the manned mission to Mars. But tycoon John Axelrod assembles a consortium to fund the project, and he expects to net billions. But a European-Asian airbus will make a similar expedition. Now, the race is on to get to the Red Planet first.