Lights come up.
Enter Dr. Hartman.
From stage left.
(Really.)
Using the dramatic backdrop of a therapy session as a stage play, featuring Dr. Hartman as the psychologist and Human Consciousness itself as "the patient," Dr. Hartman has crafted a practical guide to dealing with negative or painful emotions. Complete with lighting cues, classical quotations, and stage directions.
Dr. Fredric C. Hartman has been a clinical psychologist in private practice for over 30 years. In addition to general practice, he has specialized experience in treating losses and post-traumatic stress disorder. He was a consultant for ten years to Hospice Care Network in New York where he ran bereavement groups with widows and widowers and support groups with the nurses who went into the homes of the dying. He was mentored there closely by Cathy Fanslow Brunjes who was trained by Elizabeth Kubler-Ross. He has also worked extensively with the first responders to the attack on the World Trade Center on 9/11/2001. You can get in touch via his website!
"To psychologist Hartman, "It's all in your mind" is neither a dismissive statement nor cliché; it's the truth… Hartman addresses his exploration of the mind to all of human consciousness, which plays the nonspeaking role of a patient in a series of theatrical scenes. The set up is entertaining, thanks to whimsical stage directions and the engaging, non-pedantic manner of a caring, passionate therapist. Though the mind is the target, the discussion is neither dry nor cut off from the heart (or practicality)." –Excerpt from Kirkus Review
An informative self-help book using creative, theatrical techniques that reads more like poetry than medicine? Skyboat's Stefan Rudnicki is just what the doctor ordered.
In the recording booth, Stefan utilized his extensive theatre background (which includes studying at the Yale School of Drama and appearing in over 80 stage performances) in service of a hopeful message which feels more timely than ever. Stefan narrates the bulk of the audiobook, with Gabrielle de Cuir and Justine Eyre rounding out the cast for the classical quotes and those "whimsical" stage directions.
"THE BREAKTHROUGH IN TWO ACTS, a remarkable evaluation, assessment, and practical revelation of human consciousness and our intimate connection with it, reads more like Fredric C. Hartman is a poet, not a doctor…. I will say something I have never said before: Everyone needs to read this book."

—Five Star review by Joel Dennstedt for READERS' FAVORITE 
---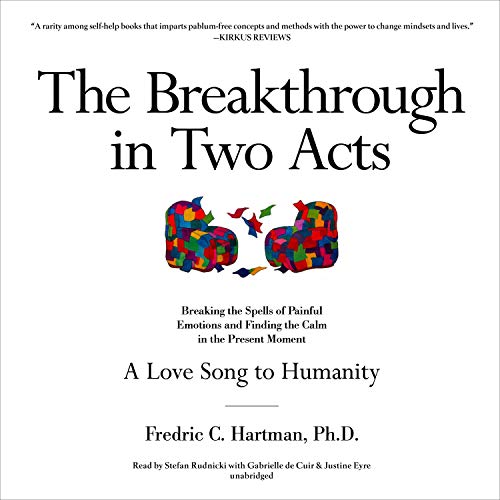 THE BREAKTHROUGH IN TWO ACTS: Breaking the Spells of Painful Emotions and Finding the Calm in the Present Moment by Fredric C. Hartman, Ph.D.
Read by Stefan Rudnicki, with Gabrielle de Cuir and Justine Eyre
In The Breakthrough in Two Acts, Dr. Fredric C. Hartman paints a vivid picture of emotional pain and its context within the human mind and brain. Set in the dramatic backdrop of a therapy session as a stage play, featuring Dr. Hartman as the psychologist and Human Consciousness itself as "the patient", this is a practical guide for anyone who struggles with negative or painful emotions.
In his play, Dr. Hartman tells the story about our vulnerability to painful emotions, which flare up from the depths of our brains, casting distressing and destructive spells over us. As the play unfolds, he develops two new experiences to help strengthen our consciousness: one, by actively breaking the spell of the two thoughts that lie at the heart – and generate the distress – in each of our negative emotions, and two, by embracing the strange, fleeting collection of conditions that come along with the present moments of our lives as they each flash by.
The Breakthrough in Two Acts is an appeal to humanity and a plan for how to use one "part" of our brain – consciousness – to quiet down another chronically overheated "part" – the limbic system – that has ravaged our species with troubles ranging from emotional illness to war. Here is a way of thinking for hard times to help overcome emotional distress and embrace a calmer and more fulfilling way to experience life.
---
A unique self-help approach and a unique audiobook experience. Purchase your copy today.