From the magical mind of fantasy romance author Bethany Adams comes ASCENT (Book 7), SOLACE (Book 8), and MAELSTROM (Book 9) in The Return of the Elves Series.
You may recall that we here at Skyboat are huge fans of Bethany Adams and The Return of the Elves Series. Gabrielle de Cuir and Stefan Rudnicki have narrated ALL of The Return of the Elves Series audiobooks!
A rich, magical world. Strong, dynamic characters. Vivid, exhilarating romance. There is a whole lot to love in these books. Which is why Gabrielle and Stefan were each delighted to brush off their pronunciation lists and step back into the recording booth and back into this world of magic, Elves, and romance. Talk about the perfect (audiobook) escape.
---
"For two weeks, Maddy had avoided giving the Moranaian healer an answer to his offer to teach her, and there was a good chance he wouldn't like what she had to say once she did. Yes, her gift needed training. She couldn't use her healing magic without risking harm to the patient, and the Sidhe, her father's people, had no interest in teaching her since she was half human. But she couldn't relocate to another world for a few decades—or centuries—either. No way." –from ASCENT

ASCENT (The Return of the Elves, Book 7) by Bethany Adams
Read by Gabrielle de Cuir and Stefan Rudnicki
In the seventh book of the Return of the Elves Series, magic has returned to Earth, but that doesn't mean that humans and the fae can live together in peace just yet.
Maddy, a deadly healer and a fae, is unable to find a teacher for her healing abilities and so she must travel to Moranaia to learn, but this means leaving behind her girlfriend Anna, whose magical water abilities have just been awakened, unprotected on Earth and trying to ignore the call of the river.
Having helped capture Kien, the lost prince Fen must now deal grapple with everything he did while working with the evil fae and consider his claim to the Unseelie throne. And when it gets out that Fen could share a mate bond with Maddy and Anna, they must all deal with their inner demons in order to be together.
Worse yet, the poison that once coursed through Fen's veins has reappeared, and the traitorous Seelie fae, Meren, has come out of hiding to take power for himself. Anna, Fen, and Maddy must master their abilities quickly and work together to defeat the rising threat. But in order to do this, they must first conquer their past.
---
"Maybe part of him had been waiting for this. Ever since he'd detected that strange illness that had infected Fen, Lial had been uneasy, haunted by a nagging whisper of a task unfinished. Could that task be coming due now? If there was some poison that would kill half-bloods, thousands could die. Horribly." –from SOLACE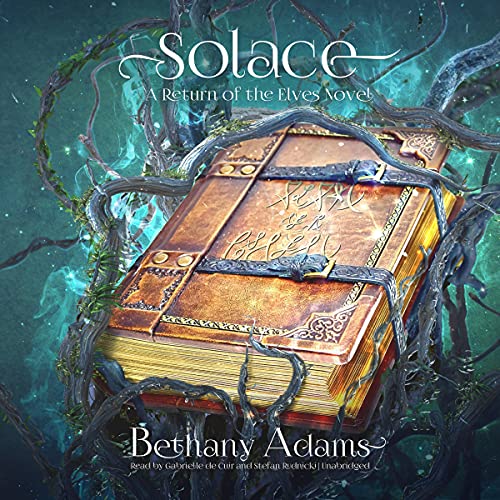 SOLACE (The Return of the Elves, Book 8) by Bethany Adams
Read by Gabrielle de Cuir and Stefan Rudnicki
After the death of her soulbonded 20 years ago, Lynia has struggled to find her place. Her son, Lyr, has the estate well in hand, and there are no pressing duties for her to attend. Then an unexpected prophesy shoves her into sudden action – and the healer's company – as a plague threatens all she holds dear.
For nearly five centuries, Lial has treated injured warriors and residents around Braelyn, but not even the small friendships he has formed can fill the increasing loneliness of his life. Worse, he made the mistake of falling in love with Lynia, who still mourns the soulbonded she lost. He buries himself in work to avoid her, but it seems the gods have other plans. According to his seer cousin, a new disease is coming, one capable of killing elves and fae alike. Lial's only hope? Working with Lynia to find a cure.
Deep in Moranaia's history, there are murmurs of such a plague, but finding the details is no easy matter – especially when a mysterious assassin strikes near the heart of Braelyn. As Lyr hunts for the traitor, Lial and Lynia scramble to unlock the mystery of the virus. But the two events may be more related than they realize, and failure can bring only one thing – death.
---
"Tynan spun on his heel, an apology on his lips, but wind and snow surrounded him in a blinding swirl as Kezari launched herself in dragon form into the sky. He hadn't even known she'd shifted. Miaran. She'd gone the one direction he couldn't follow. He'd let his emotions free and once again brought ruin." — from MAELSTROM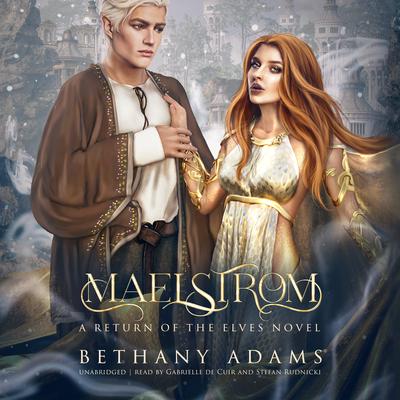 MAELSTROM (The Return of the Elves, Book 9) by Bethany Adams
Read by Gabrielle de Cuir and Stefan Rudnicki
A dragon without a hoard
Dragon shifter Kezari gave up everything to stop the poison she'd sensed on Earth. Though welcomed by the Moranaian elves, she struggles to find her place in a land with different customs and expectations. Her situation only gets worse after she's assigned to deliver healing potions with the annoying mind healer Tynan. How is she supposed to work with a man when she can't decide whether to push him away or kiss him?
A mind healer on the brink
After a mishap in his youth, Tynan trained hard to hone his gifts of mind healing and empathy, but working at Braelyn is his greatest challenge. Between traumas and mystery plagues, his temporary assignment stretches from days to weeks. But his biggest problem? Kezari, the dragon shifter he's certain is his soulbonded. Her nearness strains his control over his empathy—and he knows far too well that losing his grip on his gift means catastrophe.
A struggle between worlds
Kezari and Tynan must learn to work together quickly. Trouble is stirring with the dragons, and when a meeting with the ancient dragon Caeregas reveals the extent of the problem, Kezari feels honor bound to solve it. Too bad working with the mind healer might be her only chance at victory.
---
"Okay, I admit it. I'm a genre blender. There's always a little romance in my fantasy and fantasy in my romance. What can I say? Magic and love are both awesome." –Author Bethany Adams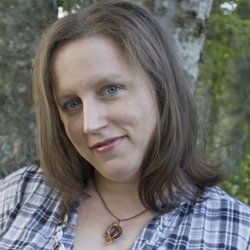 Bethany Adams has loved fantasy ever since she found a copy of The Hero and the Crown in her elementary school library. Her love of writing led her to pursue an English degree at Middle Tennessee University. When she's not writing, she enjoys reading, photography, and video games.
 If you'd like to know more about faes, check out her helpful FAQ page.
Gabrielle and Stefan deliver masterful performances, bringing to life old characters and new in Bethany Adams's latest paranormal romance. So grab your headphones and escape to a magical realm. Purchase your copies of

ASCENT

, SOLACE,

and

MAELSTROM

today!