Ever wish you could go back to the Old West, a time of legendary heroes, gunfights, gamblers, and the great outdoors?
Well, put on those headphones and gather around the campfire with these two audiobook collections by Skyboat Media and ten12 Entertainment.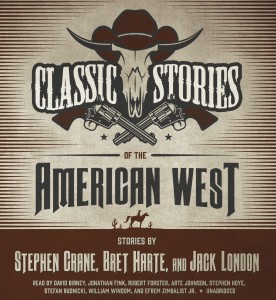 In The Bride Comes to Yellow Sky, town villain Scratchy Wilson is on the prowl, a revolver in each hand. When none of Yellow Sky's townspeople want to fight him, he awaits the return of Marshal Jack Potter, who's on his way back to town with his new bride.
When gambler John Oakhurst steps into the main street of Poker Flat, something feels different.  The town's moral atmosphere has changed. A few men, conversing earnestly together, cease as he approaches.  He's become The Outcast of Poker Flats.
In Love of Life, two gold prospectors are struggling to survive on the frozen tundra of Canada.  Starving and suffering from exposure to the elements, the two men search for food. When one sprains his ankle, the other continues on his own into the wilderness.  Will he survive?
These three stories and many more are included in this collection, read by some of the top audiobook narrators in the business including Stefan Rudnicki, Stephen Hoye, and Rex Linn.
Click here for the complete story and cast list.
ABOUT THE AUTHORS
Stephen Crane (1871-1900) is best known for his 1895 Civil War novel, The Red Badge of Courage. He also spent time as a reporter on slum life and a highly paid war correspondent. Today, he's considered one of the most innovative writers of the 1890s and one of the founders of literary realism.
Bret Harte (1836-1902) turned his love of books into a writing career. He published the first of his Condensed Novels (parodies of Dickens, Hugo, and others) when writing for the Golden Era in San Francisco .  In 1868, he was named editor of the Overland Monthly where he commissioned Mark Twain to write weekly articles. He became world famous after publication of The Luck of Roaring Camp, and Other Sketches. Harte helped create what is known as the local-color school of American fiction.
Jack London (1876-1916) is best known for his novels The Call of the Wild and White Fang, both set during the Klondike Gold Rush.  He was one of the first fiction writers to become rich and famous for his fiction writing in commercial magazines. Even with his success, he was always a passionate advocate of unionization, women's suffrage and the rights of workers. Before he was a full-time writer, he was an oyster pirate, a cannery worker, a gold miner, and a journalist.  Talk about a "Jack of All Trades."
Can't get enough? Want more Old West? You got it.
STORIES FROM WHITE HATS features tales from some of today's most esteemed Western authors.  Expertly compiled by Robert J. Randisi, this anthology includes stories by John Jakes, Richard S. Wheeler, James Reasoner and others. Stories include "The Winning of Poker Alice," "Sojourn in Kansas," "The Diamond-Ring Fling" and others.
Listen as Buffalo Bill Cody, Bat Masterson, Poker Alice and other legends of the Old West get the royal treatment by award-winning narrators  Stefan Rudnicki, Gabrielle de Cuir, Rex Linn and a full cast.
Click here for the complete story and cast list.
ABOUT THE EDITOR
Robert J. Randisi has written more than four hundred Westerns.  His popular series, The Gunsmith, has more than 250 novels and more than 5 million books in print. He's edited thirty anthologies including White Hats, Black Hats, and Boot Hill.
Purchase your copies of CLASSIC STORIES OF THE AMERICAN WEST and STORIES FROM WHITE HATS today.
Available on downpour.com.