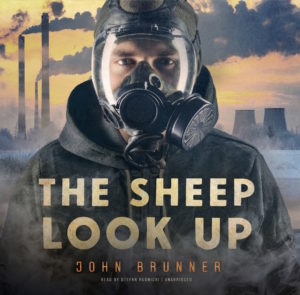 In this Nebula Award Finalist, Brunner shows us a world where the slow destruction of the Earth is taking its toll. Clean food and water are at a premium. A person can't breathe without a gas mask. Corporations look to profit from these misfortunes and the government either can't or won't do anything to stop it.
Environmentalist Austin Train is on the run. The "trainites," a group of violent environmental activists, want him to lead their movement; the government wants him dead; and the media demands amusement. But Train just wants to survive.
More than a novel of science fiction, THE SHEEP LOOK UP is a skillful and frightening political and social commentary that takes its place next to other remarkable works of dystopian literature, such as Margaret Atwood's THE HANDMAID'S TALE, Aldous Huxley's BRAVE NEW WORLD, Ray Bradbury's FARENHEIT 451, and George Orwell's 1984.
---
"Brunner writes about the future as if he and the reader were already living in it." —New York Times Book Review
---
Following THE SHEEP LOOK UP, Stefan returned to the recording booth to narrate another of John Brunner's prophetic works: THE SHOCKWAVE RIDER.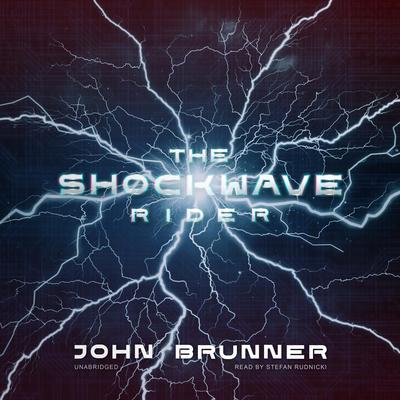 He was the most dangerous fugitive, but he didn't exist!
Nickie Haflinger had lived several lifetimes…but technically never existed. He was originally a fugitive from Tarnover, the incredibly powerful government think tank that educated him. First he had broken his identity code—then he made his escape.
Now he needed to find a way to restore sanity and freedom to the computerized masses and save a world nearing the brink of disaster. He didn't care how he accomplished this—but the government did. That's when his Tarnover teachers took him back into their labs, where Nickie Haflinger was set up to receive a whole new education.
"When John Brunner first told me of his intention to write this book, I was fascinated…A hero with transient personalities, animals with souls, think tanks, and survival communities fuse to form a future so plausibly alive it has twitched at me ever since." —Alvin Toffler, author of Future Shock
---
Check out this video on YouTube where John Brunner discusses his writing and science fiction in general.
"One of the most important science fiction authors. Brunner held a mirror up to reflect our foibles because he wanted to save us from ourselves." —SF Site
About the author: John Brunner (1934–1995) was born in Preston Crowmarsh, Great Britain. He published his first novel at age 17 under the name of Gill Hunt. Brunner began to write full time in 1958 and went on to author over one hundred books. His works include the Hugo Award–winning Stand on Zanzibar, as well as The Jagged Orbit, The Sheep Look Up, The Shockwave Rider, A Maze of Stars, and The Compleat Traveller in Black. In addition to writing mystery, science fiction, and fantasy novels, he was a linguist and translator, and served as an officer in the Royal Air Force.