For the first time on audio, Skyboat Media is proud to present John Brunner's classic cautionary tale, THE SHEEP LOOK UP.  Narrated by award-winner Stefan Rudnicki.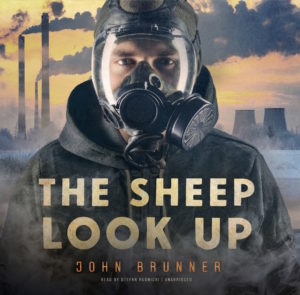 In this Nebula Award Finalist, Brunner shows us a world where the slow destruction of the Earth is taking its toll.  Clean food and water are at a premium.  A person can't breathe without a gas mask.  Corporations look to profit from these misfortunes and the government either can't or won't do anything to stop it.
As political and social commentary, THE SHEEP LOOK UP can take its place among such masterpieces as FAHRENHEIT 451 and THE HANDMAID'S TALE.
Check out this video on YouTube where John Brunner discusses his writing and science fiction in general.
About the author:  John Brunner (1934–1995) was born in Preston Crowmarsh, Great Britain. He published his first novel at age 17 under the name of Gill Hunt.  Brunner began to write full time in 1958 and went on to author over one hundred books.  His works include the Hugo Award–winning Stand on Zanzibar, as well as The Jagged Orbit, The Sheep Look Up, The Shockwave Rider, A Maze of Stars, and The Compleat Traveller in Black.  In addition to writing mystery, science fiction, and fantasy novels, he was a linguist and translator, and served as an officer in the Royal Air Force.