Alex Bledsoe is the author of the Eddie LaCrosse novels, the novels of the Memphis vampires and the Tufa novels. He has been a reporter, editor, photographer, and door-to-door vacuum cleaner salesman (we're not making this up, people!). Additionally, he has written numerous short stories, including the Firefly Witch short story chapbooks, and, since that's just not enough writing, he maintains a blog on his awesome website.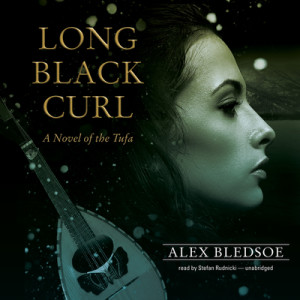 Pretty easy to see why Skyboat's Stefan Rudnicki is such a big fan of Bledsoe. So when Blackstone Audio invited him to continue his narration with the third Tufa novel – Stefan jumped at the chance.
LONG BLACK CURL (The Tufa Novels, Book 3)
"The core concept is solid and fascinating; the execution strikes just the right tone between fantastic and tragic. Bledsoe plays with lyrics and atmosphere, incorporates folklore and superstition to good effect, and even toys with alternate history for further resonance." —Publishers Weekly
From downpour.com:
"Long Black Curl is the latest installment in Alex Bledsoe's acclaimed urban fantasy series, where magic is hidden in plain sight and age-old rivalries simmer just beneath the surface.
In all the time the Tufa have existed, only two have ever been exiled: Bo-Kate Wisby and her lover, Jefferson Powell. They were cast out, stripped of their ability to make music, and cursed to never be able to find their way back to Needsville. Their crime? A love that crossed the boundary of the two Tufa tribes, resulting in the death of several people.
Somehow Bo-Kate has found her way back. She intends to take over both tribes, which means eliminating both Rockhouse Hicks and Mandalay Harris. Bo-Kate has a secret weapon: Byron Harley, a rockabilly singer known as the "Hillbilly Hercules" for his immense size and strength, and who has passed the last sixty years trapped in a bubble of faery time. He's ready to take revenge on any Tufa he finds.
The only one who can stop Bo-Kate is Jefferson Powell. Released from the curse and summoned back to Cloud County, even he isn't sure what will happen when they finally meet. Will he fall in love with her again? Will he join her in her quest to unite the Tufa under her rule? Or will he have to sacrifice himself to save the people who once banished him?"
"Bledsoe brings a real warmth and a messy humanity to his modern-day fairy story, with strong characterization and a passionate love of music." –Publishers Weekly
WISP OF A THING (The Tufa Novels, Book 2)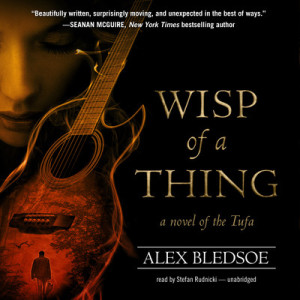 "Set in the same world as The Hum and the Shiver, Bledsoe's latest fantasy captures the allure and the sometimes sinister beauty of the Appalachian backwoods, filled with myths, haunted by ghosts, and touched, always, by death. The author of the Eddie LaCrosse urban fantasy series proves his versatility with a hauntingly beautiful tale of love lost and hope rediscovered."–Library Journal (starred review)
"Narrator Stefan Rudnicki creates gentle Appalachian accents for the characters without anything showy….It is an effective, gentle performance." –excerpt from AudioFile Review
Stefan's fine narration earned him an Audie Award in the Fantasy category. Check out our Audies Countdown video here: 
THE HUM AND TH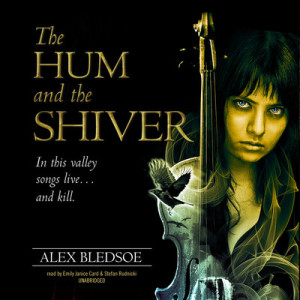 E SHIVER (The Tufa Novels, Book 1)
"This powerful, character-driven drama, set forth in superbly lucid prose, occurs against an utterly convincing backdrop and owns complications enough to keep everybody compulsively turning the pages. A sheer delight."–Kirkus Reviews (starred review)
Named One of the 2011 Kirkus Reviews' Best Books: Science Fiction and Fantasy
Narrated by Emily Janice Card and Stefan Rudnicki
From downpour.com:
"No one knows where the Tufa came from or how they ended up in the mountains of east Tennessee. When the first Europeans came to the Smoky Mountains, the Tufa were already there. Dark-haired and enigmatic, they live quietly in the hills and valleys of Cloud County, their origins lost to history. But there are clues in their music, hidden in the songs they have passed down for generations.
Private Bronwyn Hyatt, a true daughter of the Tufa, has returned from Iraq, wounded in body and spirit, but her troubles are far from over. Cryptic omens warn of impending tragedy, while a restless "haint" has followed her home from the war. Worse yet, Bronwyn has lost touch with herself and with the music that was once a part of her life. With death stalking her family, will she ever again join in the song of her people and let it lift her onto the night winds?"
Explore the world of the Tufa; begin your Appalachian adventure today.