Skyboat Media is proud to present THE RETURN OF THE ELVES SERIES by fantasy author Bethany Adams. We are very grateful for Bethany's vote of confidence in bringing her series to Skyboat. Listen as Gabrielle de Cuir and

Stefan Rudnicki

bring Adams's magical world to life in this audiobook series.
"Why did she seem so familiar? The cast of her eyes and her high cheekbones reminded him of someone, but he couldn't have met her before and not recognized her as his bonded. 'Where are you from?'" –from SOULBOUND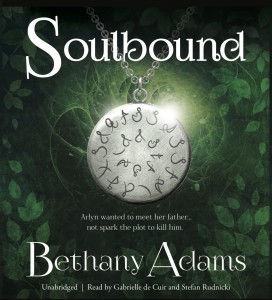 SOULBOUND (Return of the Elves, Book 1) by Bethany Adams
Read by Gabrielle de Cuir and Stefan Rudnicki
Kai has given up on finding his soulbonded. It has been five hundred years. He stumbles across Arlyn, recognizes her his mate and hastily starts their bond. Only, Arlyn is half-human. And the daughter of his best friend.
Though Arlyn's heart pounds at the sight of Kai, she's not sure if she can forgive him for starting their bond without her permission. In trying to reach Lyr, her elf-lord father in Moranaia, to tell him of her mother's death, Arlyn doesn't realize what she's setting in motion. Because her father acknowledged her as his half-human heir, the conspiracy that kept her father from her mother in the first place is reigniting. Will her newly awakened magical abilities be enough to save her and her remaining family against iron-wielding assassins and bigotry? Will Arlyn be able to return to Earth as she had planned?
Purchase your copy of SOULBOUND to find out.
---
"Flickers of mage energy shot through the sky, punctuated by the occasional scream. Kai's worry amplified. The Neorans prided themselves on their control. What kind of poison could lead them to such insanity?" –from SUNDERED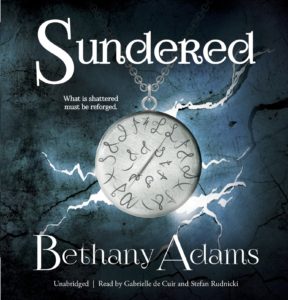 SUNDERED (Return of the Elves, Book 2) by Bethany Adams
Read by Gabrielle de Cuir and Stefan Rudnicki
Lyr is trying to find the source of the poisoned energy that's flooding into the closely corrected realms of the fae, causing sickness. Since Moranaia remains untouched, Lyr wonders if one of his own people is responsible.
And then there's Meli. Meli is part of the Ljósálfar, the reclusive Norse elves of Alfheim. Lyr thinks she may be a possible soulbonded, but finding the source of the dark energy is too important for any distraction. The king has ordered Meli to lead an expedition to another world. Though she has no magic of her own, she must figure out how she's to navigate the Veil between two worlds. Will they be able to find who or what is causing the threat and put a stop to it?
Listen for yourself. Purchase your copy of SUNDERED today.
---
"The stone heated in Inona's hand as the man's magic hit her shields, identifying him as her target. Glaring at his back as he strode away, she muttered a curse. Oh, she'd found her exile, all right. Casually using his magic on others. Coric wouldn't have let that stand. Delbin might have gone renegade in the couple of years since his last check, she supposed, but there'd been no indication from Coric that Delbin was at risk of such behavior." –from EXILED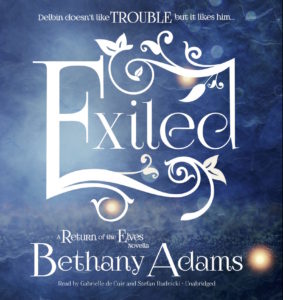 EXILED: A RETURN OF THE ELVES NOVELLA (Return of the Elves, Book 3) by Bethany Adams
Read by Gabrielle de Cuir and Stefan Rudnicki
Inona has been sent to check on Delbin Rayac, an exile from Moranaia who's lived on Earth for a hundred years. She just wants to make sure he's not causing any trouble and be done with her mission. Delbin is Coric's responsibility, but she's covering while Coric and his wife welcome their first child.
Enter Prince Kien. He is the exiled, self-proclaimed heir to the throne of Moranaia. He wants to recruit Delbin, even though Delbin's never seen him before. Why?
Included with this novella is the bonus short story, "The Grove Between," previously published in the Against All Odds anthology. Purchase your copy of EXILED today.
---
Stefan Rudnicki and Gabrielle de Cuir continue the series, featuring new characters and some familiar ones.
"The pain of impact seared through Ralan's side, forcing him awake. His muscles convulsed with the remnants of the fire that had licked through his body, followed by the cold of death. Shuddering, he blinked his eyes open and searched the dimness for the source of the threat. But he saw nothing except the usual shadows of his bedroom. His heart gave a leap as realization settled in. The same vision again." –from SEARED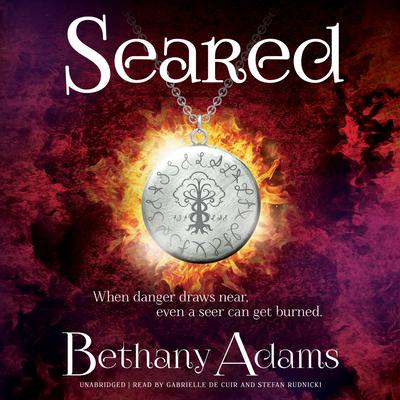 SEARED (Return of the Elves, Book 4) by Bethany Adams
Read by Gabrielle de Cuir and Stefan Rudnicki
After more than three hundred years on Earth, Prince Ralan has finally returned to Moranaia. But with his wicked brother Kien on the loose, the homecoming is a short one. A dire vision sends Ralan back to Earth to save his soulbonded from his dark brother. The problem? Ralan's Sight grows more erratic by the moment even as danger closes in on every side.
Ever since a failed alliance ruined her family, Cora has lived on Earth. Far from discontent, her days are spent running her clothing shop and helping newly arrived fae adapt to mundane life. Then a golden-eyed prince strides into her store, trouble stalking his heels. Big trouble.
Ralan's Sight might be broken, but one thing remains clear—stopping Kien will mean Ralan's death. So how could the Gods choose now to introduce his soulbonded? As Ralan and Cora search for Kien, their relationship grows stronger. Unfortunately, so does the threat. Now Ralan must choose between his own life and the fate of all their worlds.
Purchase your copy of SEARED today.
---
His blood chilled at the blank, unnatural expression of her face. Then her head tilted in an almost birdlike gesture, and clarity hit. A dragon in the guise of a woman. –from ABYSS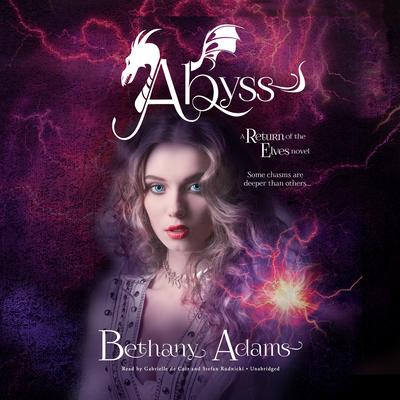 ABYSS (Return of the Elves, Book 5) by Bethany Adams
Read by Gabrielle de Cuir and Stefan Rudnicki
After five hundred years as a magic teacher, Selia thought she'd seen everything. But nothing prepared her for the chaos of her assignment at Braelyn. Assassins, rogue princes, and a grown, half-human student—all had caught her off guard. Now, things have settled down, and her life has begun to take on a sense of normalcy. Until her seemingly dead husband reappears astride a dragon with a dire warning about Earth.
For seven years, Aris was held captive on the isle of dragons, hidden so well that only his captor knew of his presence. But when a dragon claims him as her rider and flies him away on an urgent mission, Aris isn't certain he wants to return home. Tortured and scarred, not even thoughts of his lost family renew his desire for life. Unfortunately, death isn't on the table—not with danger threatening multiple worlds.
Purchase your copy of ABYSS today.
---
"Voices cut off mid-sentence as she passed, only to swell into frenzied whispers at her back. No change there. Yes, it was better not to listen, something she had learned during her teen years. There was no peace for a princess whose brothers had created the greatest court scandal in millennia. She might have few friends at the Citadel, but at least no one there treated her with suspicion or scorn. Not anymore." –from AWAKENING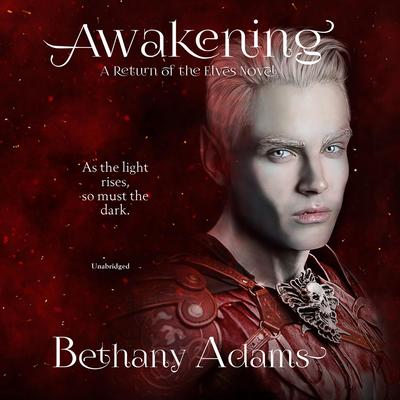 AWAKENING (Return of the Elves, Book 6) by Bethany Adams
Read by Gabrielle de Cuir and Stefan Rudnicki
For three hundred years, Princess Dria has avoided the drama of the royal court by training as a battle mage. When her father summons her back to court just as she begins to rise up the ranks, she's furious. Even worse, she must work with her estranged brother Ralan on a mission to Earth. But as soon as Dria arrives at Moranaia's new outpost, her brother drops the leadership of the entire place into her hands. Now she's in charge of fortifying a new outpost on a planet she's never even visited.
Prince Vek of the Unseelie has spent millennia as his father's enforcer, working in the shadows to eliminate evil, but after sparing his nephew Fen from the king's judgment, Vek must tread carefully. But when the king gives Vek a new, more sinister task, Fen becomes the least of his worries. The Moranaians have a new colony on Earth, and King Torek wants the energy source that's contained within. Vek must retrieve that power—even if he has to kill the Moranaian leader to get it.
From the moment she catches Vek sneaking into the cavern, Dria knows the truth—the dark and mysterious prince is her soulbonded. Unfortunately, more than desire is awakening. As they dance around their budding attraction, Dria and Vek uncover a deathly illness lurking among the fae—and a sinister plot that will damage both their worlds.
Purchase your copy of AWAKENING today.
---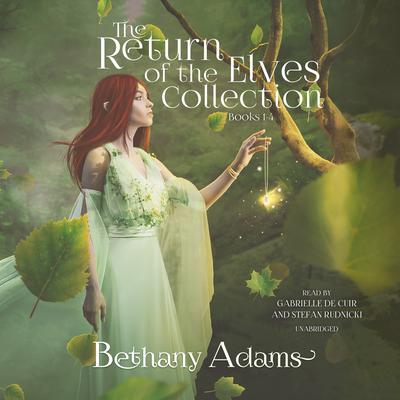 This collection includes the first four books in the Return of the Elves romantic fantasy series: Soulbound, Sundered,  Exiled, and Seared.
A hidden conspiracy. A threat that spans worlds. An unexpected enemy. A fate long foretold.
Journey through the Return of the Elves series, where half-bloods, exiles, scouts, and seers must come together to prevent their worlds' destruction.
---
ABOUT THE AUTHOR: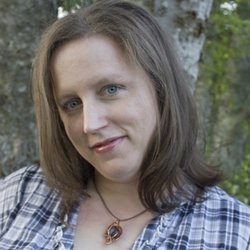 Bethany Adams has loved fantasy ever since she found a copy of The Hero and the Crown in her elementary school library. Her love of writing led her to pursue an English degree at Middle Tennessee University. When she's not writing, she enjoys reading, photography, and video games.
If you'd like to know more about what makes Bethany Adams tick, check out this great interview with Janell Rhiannon. Learn who really inspired her love of elves and fantasy.