"The Percenters are a superhuman race that evolved through a magical elixir. Think the fountain of youth, but instead of getting life everlasting, your DNA evolves to give you powers other humans don't have." –Author P. H. Perrine on the genesis of the PERCENTERS series
P. H. Perrine is an award-winning entrepreneur and a new breakout author in Dystopian Fiction / Young Adult (YA) Fiction. He started writing Percenters and the Amber Pendant, the first book in the Percenters series, shortly after moving to Austin, TX from California. (To stay up-to-date on all things Percenters, subscribe to his newsletter!) As we grapple with global issues, such as gender equality and climate change, in an increasingly polarized world, Perrine used our real-world environment as a jumping off point for a dystopian fantasy series, centered on sixteen-year-old Jenavieve.
Perrine shared, "To me, the Percenters story represents all the women I have encountered throughout my life who are strong, unlikely heroes." A strong believer in the recognizing injustice and doing whatever you can to fight for equality, Perrine encourages fans to "Be an unlikely hero. Whether you are a Jena, an Avelino, or a Sven, stand up against wrong." We are thrilled to support his powerful message.
Speaking of strong women, Skyboat's Gabrielle de Cuir helmed this project. This is a gripping fantasy adventure tale that hooks you in and won't let you go, and Gabrielle was eager to bring Perrine's imagined world to life on audio. (We are just as excited for the sequel as you are!)
Listen to an audiobook sample on Skyboat's SoundCloud.
"I try not to remember it, but it's always with me. The blood. The horror. The dead-cold feeling that no one is here to rescue me. The realization I'm fighting a war no one else is even aware is happening."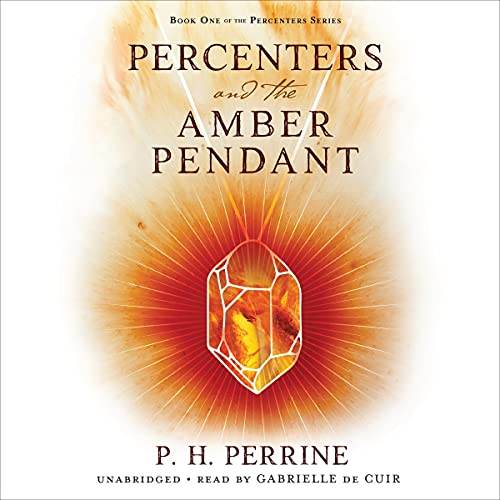 PERCENTERS AND THE AMBER PENDANT (Percenters, Book 1) by P. H. Perrine
Read by Gabrielle de Cuir
In a world of blood, purity is king.
Delve into a post-apocalyptic world where super humans reign and the purity of your bloodline determines everything. In this dystopian fantasy, people are divided by the powers they have and the air they are allowed to breathe.
On the eve of what is every sixteen-year-old Percenters transition to adulthood, Jenavieve learns about the cruel oppression of Barrens, people without superhuman powers who live below the Sovereign Sky Cities – the only world she has ever known. Jenavieve must undo what her ancestors architected centuries ago . . . a world where humans without powers are enslaved to those with.
Jenavieve, an unlikely heroine, is humanity's last hope. But the Cleansing Coalition, a secret sect of Percenters, will stop at nothing to keep their status quo, even if that means killing Jenavieve and everyone she loves.
Be an unlikely hero. Purchase your copy of PERCENTERS AND THE AMBER PENDANT today!