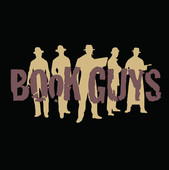 Paul Alves is best known as the host of the beloved podcast Book Guys, a weekly show that reviews books, audiobooks, audio dramas, and podcasts with the help of a couple of co-hosts and some spectacular guests.  Tune in for talk of everything from fighter pilots to the Booker Prize to Doctor Who and literally everything in between, all delivered in that unmistakably fun and literary-loving tone.
Needless to say, we Skyboaters are huge fans and avid listeners of Paul's show, so we were all pretty excited to learn that our very own Gabrielle de Cuir would be the Book Guys guest!  Watch the episode above to watch Gabrielle discuss her work as a narrator, as well as talk backstage talk about her direction of ENDER'S GAME ALIVE, plus some other projects she has up her sleeve.  All episodes are free on iTunes or YouTube.  Enjoy!
In the meantime, get caught up on what you've missed by downloading the Book Guys podcast!  For more on ENDER'S GAME ALIVE, follow us on Twitter at @SkyboatMedia.  And hey, while you're at it, follow @PaulTheBookGuy too!