I remember distinctly when Tito's told me, "Joey, my life has changed for the better. I just landed a whale of an account for my firm. Life is good."
So why would someone commit suicide after celebrating life the night before? I asked myself.
After sixteen years as a homicide detective with the NYPD, I knew this didn't add up.                                                                                -Joey Mancuso, A Murder on Wall Street
"The narration for A Murder On Wall Street was done by Stefan Rudnicki who does a great job….Overall, A Murder On Wall Street was a highly enjoyable and relatively short crime thriller/mystery that I think readers of either genre will enjoy. Fans of American Greed should also check this out, it feels like it was ripped right from the headlines." —Excerpt from Brian's 5 star audiobook review on briansbookblog.com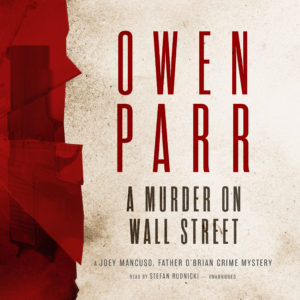 A MURDER ON WALL STREET (The Joey Mancuso, Father O'Brian Crime Mysteries, Book 1) by Owen Parr
Read by Stefan Rudnicki
Former NYPD officer Joey Mancuso is now half-owner of Captain O'Brian's Irish Pub and Cigar Bar along with his half-brother, Father Dominic O'Brian.
Just because Joey is no longer NYPD doesn't mean he's stopped being curious.  Especially when one of his customers,  a hedge fund manager, decides to take a nosedive after he just landed a big new account.
What really happened to Jonathan Parker (aka "Tito's")?
And what about the hit and run "accident" of Parker's assistant?
With the help of Father Dominic and Joey's "sometime" girlfriend, FBI Special Agent Marcela "Marcy" Martinez,  Joey tries to figure out what really happened.
Considering the money laundering, insider trading, and a Ponzi scheme that the group uncovers, murder seems like a safe bet. Who did it? Why?
Listen and find out. Hop over to Skyboat's SoundCloud to listen to an audiobook sample and purchase your copy today!
If you like what you hear, you'll love the second installment, A MURDER ON LONG ISLAND.
---
"Apart from the wonderful storytelling skills, the author demonstrates great mastery in the art of creating biting suspense, of excellent prose, and the ability to stir strong emotions in readers." —Readers' Favorite
About the author: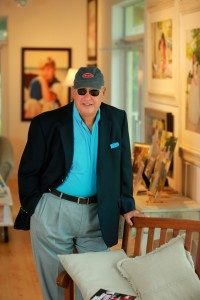 Owen Parr was born in Havana, Cuba and grew up in Miami Beach.  He has been employed in the financial advice industry since 1986. During this time, he's still managed to write. Whether it's articles for the local paper, his blog, and screenplays that he's now converting into fictional novels. He's been writing this whole time.  
His novel, "The Dead Have Secrets" won the 2016 New Apple Book Award for Excellence in Independent Publishing in the "Mystery" category.