"Stefan Rudnicki's deep voice is a solid match for the disillusioned characters, including burned-out aerospace contractor Dennis McPherson, who has been stuck in a difficult job and has had an unsatisfying home life for years. Rudnicki gives his son, Jim, a lighter tone filled with a youthful optimism that is worn away when he begins to take part in antiwar terrorist acts, sabotaging the very technology his father helps to create. Explosive and gripping." —AudioFile Magazine review of THE GOLD COAST
Before he published his well-known Mars trilogy chronicling the settlement and terraforming of Mars, Kim Stanley Robinson first took on a slightly closer locale: Orange County, California.
Kim Stanley Robinson is a prolific American science fiction writer. He earned a PhD in English from University of California, San Diego with a thesis entitled The Novels of Philip K. Dick, which was published in 1984. His novels have won nearly a dozen major science fiction awards, including two Hugo Awards for Best Novel (Green Mars and Blue Mars), two Nebula Awards for Best Novel (Red Mars and 2312), the World Fantasy Award (Black Air), a John W. Campbell Memorial Award for Best Science Fiction Novel (Pacific Edge), and multiple Locus Awards. Check out Wired.com's article on his recent book 2312, which includes a link to Episode 62 of the Geek's Guide to the Galaxy podcast, featuring a discussion between hosts John Joseph Adams and David Barr Kirtley and guest Tobias Buckell about ecological themes in fantasy and science fiction.
The Three Californias Triptych is comprised of THE WILD SHORE (1984), THE GOLD COAST (1988), and PACIFIC EDGE (1990). All describe different near-futures in Orange County, and all are now available as audiobooks read by science fiction aficionado and Audie-winner Stefan Rudnicki! Listen to Stefan discuss Kim Stanley Robinson's futuristic and dystopian version of California on Skyboat's SoundCloud.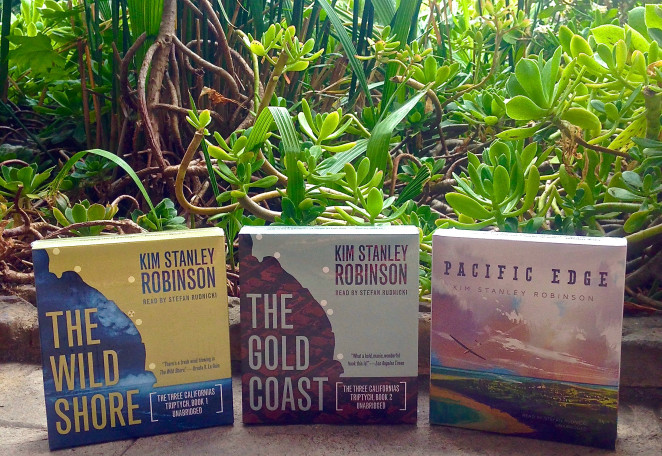 "There's a fresh wind blowing in The Wild Shore." –Ursula K. Le Guin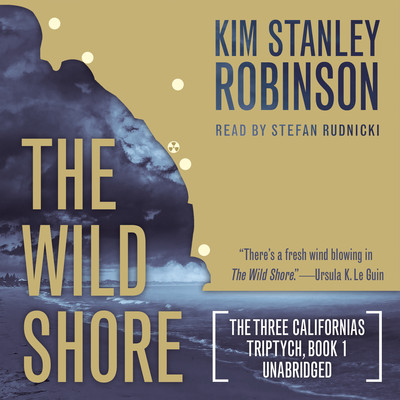 THE WILD SHORE (The Three Californias Triptych, Book 1) by Kim Stanley Robinson
Read by Stefan Rudnicki
From the author of the award-winning Mars trilogy comes a vision of a radically different alternative future, where every day is a fight to survive.
North America, 2047. For the small Pacific Coast community of San Onofre, life in the aftermath of a devastating nuclear attack is a matter of survival, a day-to-day struggle to stay alive. But young Hank Fletcher dreams of the world that might have been, that might yet be—and dreams of playing a crucial role in America's rebirth.
Kim Stanley Robinson's first novel, The Wild Shore, is an epic tale that will appeal to adults and young adults alike.
---
"A rich, brave book…It celebrates, with an earned and elated refusal of despair, the persistent, joyful survival of human persons in the interstices of the American juggernaut." —Washington Post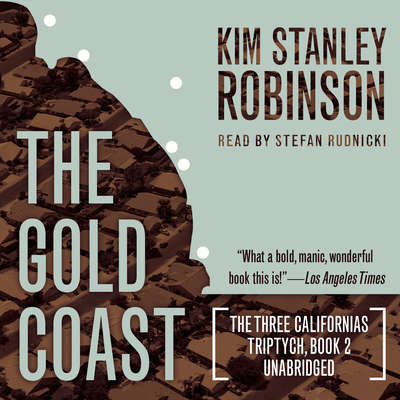 THE GOLD COAST (The Three Californias Triptych, Book 2) by Kim Stanley Robinson
Read by Stefan Rudnicki
North America, 2027. Southern California is a developer's dream gone mad, an endless sprawl of condos, freeways, and malls. Jim McPherson, the affluent son of a defense contractor, is a young man lost in a world of fast cars, casual sex, and designer drugs. But his descent in to the shadowy underground of industrial terrorism brings him into a shattering confrontation with his family, his goals, and his ideals. The Gold Coast is an epic work of science fiction that explores a grim future and what one man can do to turn the tides.
---
"Pacific Edge is an inspiring story about inspiring stories. It's even more relevant now than it was a quarter century ago." –Cory Doctorow, from his audiobook review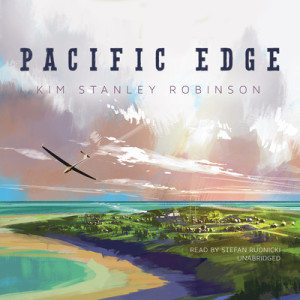 PACIFIC EDGE (The Three Californias Triptych, Book 3) by Kim Stanley Robinson
Read by Stefan Rudnicki
North America, 2065. In a world that has rediscovered harmony with nature, the village of El Modena, California, is an ecotopia in the making. Kevin Claiborne, a young builder who has grown up in this "green" world, now finds himself caught up in the struggle to preserve his community's idyllic way of life from the resurgent forces of greed and exploitation.
The final volume in Kim Stanley Robinson's Three Californias Triptych, Pacific Edge is a brilliant work of science fiction and an outstanding literary achievement.