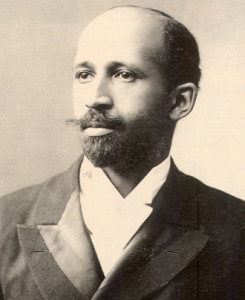 "But, before everything else, [Du Bois] is a poet, a poet who knows how to handle statistics; bitter, passionate, eloquent. He is a thinker, too: well-conducted are his arguments on the position of Negro women, on the Negro as servant, on the status of the black face in international affairs." –The Freeman (1920)
Author, scholar, and activist, W.E.B. Du Bois was born in 1868 and raised in Massachusetts. He became the first African American to earn a doctorate from Harvard University. He was the best-known spokesperson for African American rights during the first half of the 20th century and co-founded the National Association for the Advancement of Colored People in 1909. He died in 1963, but his life and memory continues to inspire (as seen in the documentary clip here).
Published in 1920, DARKWATER: VOICES FROM WITHIN THE VEIL is a moving, literary autobiography that incorporates essays, spirituals, and poems and deals with themes such as racial discrimination and spirituality. Written when he was 50, it is the first of Du Bois' three autobiographies.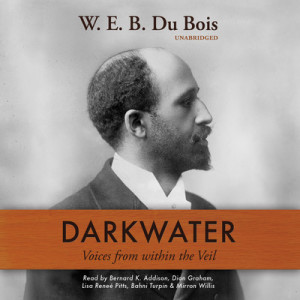 In DARKWATER, Du Bois experiments with presentation, jumping from sociopolitical essays to poetry and science fiction. He argues against religious ignorance, advocates for the upliftment of women, analyzes "whiteness," prophecizes massive social collapse, and promotes the idea that the darker people of the globe may be the world's salvation. –Supreme Design Publishing
Du Bois includes his response to the attacks made on African-Americans in a riot in September 1906 ("A Litany in Atlanta"), his thoughts on the status of African-American women in society ("The Damnation of Women"), and the impact of skin color upon religious belief ("Jesus Christ in Texas").
As Robert F. Foerster wrote in his review, published in The Survey (1920), "Dr. DuBois is given to staring relentlessly at just those things upon which many people are careful to shut their eyes."
For a collection of such social importance, covering a diverse range of topics, we assembled a stellar cast of narrators: Bernard K. Addison, Dion Graham, Lisa Renee Pitts, Bahni Turpin, and Mirron Willis. In addition to each being actors from film and television (not to mention theater!), all are award-winning narrators in their own right. Turpin, Pitts, Willis, and Graham have all won AudioFile Earphones awards. Additionally, Pitts is a multiple time Audie nominee, and Graham has won four Audie Awards and was named an AudioFile Golden Voice.
And here's a helpful guide to who read what:
Postscript – Bahni Turpin
Credo – Dion Graham
THE SHADOW OF YEARS – Mirron Willis
THE SHADOW OF YEARS A Litany at Atlanta – Lisa Renee Pitts
THE SOULS OF WHITE FOLK – Bernard K. Addison
THE SOULS OF WHITE FOLK The Riddle of the Sphinx – Bahni Turpin
THE HANDS OF ETHIOPIA – Mirron Willis
THE HANDS OF ETHIOPIA The Princess of the Hither Isles – Dion Graham
OF WORK AND WEALTH – Bahni Turpin
OF WORK AND WEALTH The Second Coming – Mirron Willis
THE SERVANT IN THE HOUSE – Bernard K. Addison
THE SERVANT IN THE HOUSE Jesus Christ in Texas – Mirron Willis
OF THE RULING OF MEN – Lisa Renee Pitts
OF THE RULING OF MEN The Call – Dion Graham
THE DAMNATION OF WOMEN – Mirron Willis
THE DAMNATION OF WOMEN Children of the Moon – Bahni Turpin
THE IMMORTAL CHILD – Bernard K. Addison
THE IMMORTAL CHILD Almighty Death – Dion Graham
OF BEAUTY AND DEATH – Lisa Renee Pitts
OF BEAUTY AND DEATH The Prayers of God – Dion Graham
THE COMET – Mirron Willis
THE COMET A Hymn to the Peoples – Mirron Willis
These energetic narrators maintain Du Bois' intensity as they bring his words to life nearly 100 years later. The issues Du Bois raised, and about which he wrote so passionately, continue to remain relevant today – and it's more important than ever that they continue to be heard. Don't miss this opportunity – pick up your copy today from our preferred shopping source at Blackstone Audio, or from Audible/Amazon by clicking here: Darkwater: Voices from within the Veil