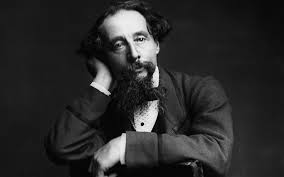 Dickens?
That's not lightspeed.  Well, actually Dickens was traveling at lightspeed for his time.  But that's a whole other month of posts.
Today we're doing something a little different.
As you surely know by now, June is Audiobook Month, and we're not the only ones celebrating.  Spoken Freely, a group of 30+ professional narrators, has teamed with Going Public—an audio project by Xe Sands that offers free recordings of work in the public domain—to create a serialized audio story collection: Going Public…in Shorts.  From the site: "Each narrator has recorded a short piece from the public domain, including the work of Chekhov, Twain, Chopin, Poe, Lovecraft, Fitzgerald, Joyce, Wilde and many others, even Lincoln's pivotal Second Inaugural Address."  Stories are free online for one week after they're posted, and after that available for purchase and download.  All proceeds go to the Reach Out and Read literacy advocacy organization.
Pretty cool, right?
Stefan Rudnicki and I both participated in this terrific project, and my story is up today!
For this project, we had to select a short story in the public domain.  Many years ago, a wonderful once-in-a-lifetime teacher at UCLA, Dr. Elliot Engel, imbued in me a wildly passionate appreciation and love for Charles Dickens.  There is not much opportunity for this California Girl to narrate Dickens with the likes of fabulous British narratoresses like Anne Flosnik and Rosalyn Landor about, so I jumped at this chance.
I chose Prince Bull by Charles Dickens.  Dickens sets the story in a fairy tale context, but it was really written as a political accusation toward the British government's policies regarding the Crimean War.  His evil Fairy who is all red, and keeps screaming "Tape!" puts most Disney Villains to shame!
Listen to my Dickens rendition here—it's free until 6/15, then available for purchase via Downpour—then hop on over to Teresa's Reading Corner to read an exclusive interview I did with this audiobook-loving and very talented blogger in which we discuss Dickens, The Delivery, and all things audio.  (There's a also a little video of myself in the booth reading TIME OF MY LIFE by Allison Winn Scotch, one of my favorites, so don't miss that either!)
Special thanks to Xe Sands for her incredible work in putting this project together.  And thanks to Teresa for being a wonderful virtual host!
Stefan's story goes live June 20th.  Stay tuned!