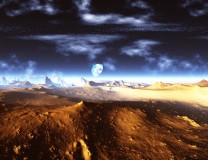 "We have all wanted Mars, in our time.  She is familiar, she is strange.  She is redolent of tales and spices and stones we have never known.  She is demure, and gives nothing freely, but from our hearths we have watched her glitter, all of our lives.  Of course we want her.  Mars is the girl next door.  Her desirability is encoded in your cells.  It is archetypal.  We absolve you in advance."
Welcome to HOW TO BECOME A MARS OVERLORD, in which Author Catherynne M. Valente creates a wildly imaginative world filled with berry-dripping speakeasies and half-butterfly giants who only speak in six-part harmony rhyming couplets.  But make no mistake, this is not your run of the mill sci-fi tale in which life on Mars is what we always thought it could be and more.  To say that Valente takes a more unique approach to the structure and tone for her rendition of this sci-fi trope would be the grand understatement of audiobook month.  The story reads more like a brochure, a seminar, and trust me, whether you know it or not, you've already signed up.
Narrator Robin Sachs dives in headfirst, a futuristic announcer regaling you with tales of this planet that you long for more than life itself.  The story takes twists and turns and glances over characters worth writing entire novels about, and Sachs' commanding voice makes it all the more real.
Listen to the story below—complete with an introduction from the author herself—then check out Lightspeed's Author Spotlight on Catherynne M. Valente to learn what sort of overlord she would be (hint: an army of poetry-loving champagne addicts).
HOW TO BECOME A MARS OVERLORD AUDIO
Catherynne M. Valente is the New York Times bestselling author of over a dozen works of fiction and poetry, including Palimpsest, the Orphan's Tales series, Deathless, and the crowd-funded phenomenonThe Girl Who Circumnavigated Fairyland in a Ship of Own Making.  She is the winner of the Andre Norton Award, the Tiptree Award, the Mythopoeic Award, the Rhysling Award, and the Million Writers Award.  She lives on an island off the coast of Maine with her partner, two dogs, and an enormous cat.
And on a sad personal note, we lost Robin suddenly and unexpectedly last year.
I worked with him on a very difficult and rewarding Gregory Benford novella early last year, A Hunger For The Infinite, A Galactic Center Story.  Robin was a mercurial reader, with great humor and amazing intensity.  He also gave a stellar performance in the audiobook version by one of my favorite writers, Jonathan L. Howard, in Johannes Cabal, The Detective.
I miss him.
Robin Sachs was a beloved British actor with a storied career that stretches back to the early 70s.  He's perhaps best known for his roles on Buffy the Vampire Slayer and Babylon 5.  As a narrator, he was a multiple Earphones Award winner, an Audies Award Finalist, and one of AudioFile's Best Voices of the Year for three years running.
He was also a great lover of both cookies and pitbulls.