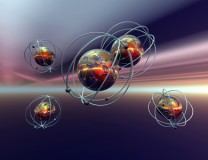 Here's yet another 2011 Nebula finalist, MAMA, WE ARE ZHENYA, YOUR SON written by Tom Crosshill, a haunting tale told through the voice of a Moscow-born boy writing letters to his ailing mother.  Over time, the letters change in tone—moving from fear to denial to confusion to desperation and so on—as our narrator, Zhenya, adapts to his new, and very strange, environment.
"I don't know why I was all in one place before.  I think all the little parts of me, they could be many different places but they disagreed.  They pulled in different directions like in that story about the wagon and the horses so they stayed in place.  Now every little piece of me agrees, and I am everywhere I want to be."
Narrator Stefan Rudnicki brings young Zhenya to life with a boyish innocence and an Eastern-European accent that rings beyond true.  As Zhenya begins to fall apart—literally?—so does Stefan, and the result is a chilling and heartbreaking story that's at once fascinating and fear-inducing.
Hear it for yourself below, then read a terrific Author Spotlight on Tom Crosshill to learn how both his studies in physics and Daniel Keyes' Flowers for Algernon.
MAMA, WE ARE ZHENYA, YOUR SON AUDIO
Tom Crosshill has been nominated for the Nebula Award and the Latvian Literature Award, and his work has appeared in venues such as Lightspeed, Intergalactic Medicine Show, Beneath Ceaseless Skies, and Clarkesworld.  After many years spent in Oregon and New York, he currently lives in his native Latvia.  In the past, he has operated a nuclear reactor, translated books and worked in a zinc mine, among other things.
Stefan Rudnicki is a Grammy and Audie Award winner who has narrated and/or produced over 3,500 audiobooks.  He has a dozen published books to his name, and has been seen in more than 80 stage productions on both coasts and abroad.  He is the co-founder of Skyboat Media and Podcast Producer for Lightspeed.