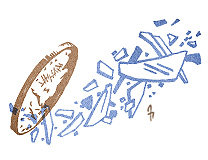 For those of you who stuck with us through the 2013 Audies countdown, you already know that we're just a tiny bit partial to Mr. Jonathan Maberry.
Okay, a lot a bit partial.
Maberry's right up there with chocolate for me.
I mean, V-WARS?  It's a force to be reckoned with.
Not to mention the fact that Maberry is a New York Times bestselling author and multiple winner of the Bram Stoker Award.
But today we turn you toward Maberry reveling in the shorter form with PROPERTY CONDEMNED, a mighty tale of horror published in the sister magazine to Lightspeed, Nightmare.  The story begins with a touch of Stand By Me: four friends seeking adventure; in this case, a bike trip to a supposed haunted house in town.  There's joking and teasing and a girl upon which all three boys crush, and there's a hefty dose of suspense as the kids inch their way toward the front door:

"The windows, even the shuttered ones, were like eyes.  The ones with broken panes were like the empty eye-sockets of old skulls, like the ones in the science class in school.  Crow spent hours staring into those dark eye-holes, wondering if there was anything of the original owner's personality in there.  Not once did he feel anything.  Now, just looking at those black and empty windows made Crow shudder, because he was getting the itchy feeling that there was something looking back."
But once they get inside, this becomes a story unlike one you've ever read, and Paul Boehmer narrates the unexpected events with a certain seamlessness, moving from whining adolescence to downright terror with believability and ease.
Self-induce the heebie-jeebies—with a slice of heartbreak thrown in—by listening for yourself below, and afterward, check out Nightmare's Author Spotlight on Jonathan Maberry to read his thoughts on destiny.
And if you still find yourself wanting more (like chocolate), check out Mr. Maberry's Pine Deep Trilogy, a trio of novels in which some of these same characters appear.
Jonathan Maberry is a NY Times bestselling author, multiple Bram Stoker Award winner, and Marvel Comics writer.  He's the author of many novels including Assassin's Code, Flesh & Bone Dead of Night, Patient Zero and Rot & Ruin; and the editor of V-Wars: A Chronicle of the Vampire Wars.  His nonfiction books on topics ranging from martial arts to zombie pop-culture.  Since 1978 he has sold more than 1200 magazine feature articles, 3000 columns, two plays, greeting cards, song lyrics, poetry, and textbooks.  Jonathan continues to teach the celebrated Experimental Writing for Teens class, which he created.
Paul Boehmer is a stage, television, and film actor known as much for Shakespeare as he is for Star Trek.  As an Audie Award winning narrator, he's narrated such tomes as Moby Dick and Suzanne Collins' McGregor series.  He is a Senior Producer and Narrator at Skyboat Media.