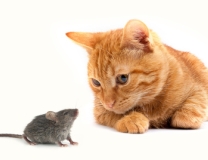 Meow.  Lick, lick.  Scratch.
It can't be that hard, can it?
That's what Gordon thought.  In GORDON, THE SELF-MADE CAT by Peter S. Beagle, a young mouse named Gordon has dreams beyond his assumed role in life.  Rather than live in fear of cats for the rest of his days, he decides to be one instead.  And yes, off to cat school he goes.  The absolutely delightful tale that follows is full of imagination and fun that even non-animal lovers will gobble up.  Gordon masters courses in several "matters of feline manners such as Washing, Tail Etiquette, The Elegant Yawn, Sleeping In Undignified Positions, and Making Sure You Get Enough Food Without Looking Greedy (101 and 102)," but of course, the story doesn't quite end as young Gordon may have intended.
Stefan narrates and is clearly as delighted as we are, as this recording is as joyful as they come.  Folks, this is a story for the whole family, so gather round the speakers and have a listen.  And if you have a tendency to pick up the pen yourself, read Lightspeed's Author Spotlight on Mr. Beagle for some of his sage writerly advice.
GORDON THE SELF-MADE CAT AUDIO
Peter S. Beagle was born in 1939 and raised in the Bronx, where he used to sit by himself in the stairwell of apartment building he lived in, staring at the mailboxes across the way and making up stories to entertain himself.  Today, in addition to eight novels and over one hundred pieces of short fiction, Peter has written many teleplays and screenplays (including the animated versions of The Lord of the Rings and The Last Unicorn); six nonfiction books (among them the classic travel memoir I See By My Outfit); the libretto for one opera; and more than seventy published poems and songs.  He currently makes his home in Oakland, California.
Stefan Rudnicki is a Grammy and Audie Award winner who has narrated and/or produced over 3,500 audiobooks.  He has a dozen published books to his name, and has been seen in more than 80 stage productions on both coasts and abroad.  He is the co-founder of Skyboat Media and Podcast Producer for Lightspeed.