It's not that we're playing favorites.  (Like any good parent, we love all our podcasts equally).
It's just that when we began to gather and collate and edit down the massive list of stories that have stood out for us over the previous months—and believe us, there were literally hundreds we would have liked to include—it just so happened that a handful of those written by Genevieve Valentine kept hanging on.  We can't explain it.  But then again, we don't need to.  Once you start listening, she'll stick with you too.
Genevieve's first novel, Mechanique: a Tale of the Circus Tresaulti, won the Crawford Award; her second novel, Glad Rags, is forthcoming from Atria in 2014.  Her short fiction has appeared in Lightspeed, Fantasy Magazine, Clarkesworld, Strange Horizons, and Escape Pod, and in anthologies including Armored, Under the Moons of Mars, Running with the Pack, The Living Dead 2, Federations, After, Teeth, and The Mad Scientist's Guide to World Domination, among others.  Her appetite for bad movies is insatiable, a tragedy she tracks on her blog.
We've got three stories from Ms. Valentine here for you today, and it's Saturday after all, so pour yourself a cup of tea and settle in because we're pretty sure you're gonna want to hear all three.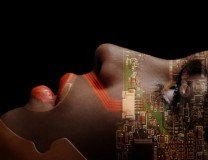 First up is THE NEAREST THING, wherein gifted code-writer Mason gets pulled into building something much greater than even he is aware.  Arte Johnson narrates in a conversational tone that only adds to the creepiness of the content.  Listen to the story below and get ready for it to stick to your bones.  Afterwards, take a moment to read Lightspeed's Author Spotlight on Valentine to discover the true motives of these memorable characters.
Arte Johnson is an American comic actor whose storied career spans more than fifty years.  He is perhaps best known from his work on NBC's Rowan & Martin's Laugh-In, for which he won a Primetime Emmy in 1969.  He has narrated countless audiobooks by writers such as Dave Barry and Gary Shteyngart.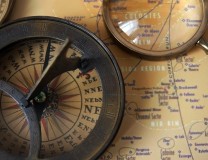 Next up is THE ZEPPELIN CONDUCTORS' SOCIETY GENTLEMEN'S BALL, in which Valentine explores the darker side of Steampunk through the eyes of an oft-overlooked zeppelin conductor.  Narrator Rosalyn Landor floats seamlessly between the narrator and the other points of view that Valentine presents, from advertisements to a doctor's address to a public safety poster.  She's something of a conductor herself, and the resulting music is magic.  But don't take our word for it.  Listen below, and if you still want more, read this Author Spotlight on Valentine.
THE ZEPPELIN CONDUCTORS' SOCIETY GENTLEMEN'S BALL AUDIO
Rosalyn Landor was a sought-after child actress in England.  She made her West End stage debut in 1987, then relocated to the U.S. to continue her stage and screen career.  She is an award-winning narrator with numerous Audie and Audiofile Earphones to her name, including Best Female Solo Narration for The Winter Sea by Susanna Kearsley in 2012.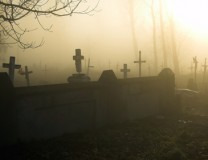 Last up is THE GRAVEDIGGER OF KONSTAN SPRING, in which an accidental town with a magical spring and deep secrets takes on a new gravedigger.  He signs a contract for a hundred years, and things only get stranger from there.  Stefan Rudnicki narrates this as the seemingly dark fairy tale that it is, and you can't help but drink the water.  Hear for yourself below, and read one last Author Spotlight on Genevieve to get her point of view on small towns, bad movies, and immortality.
THE GRAVEDIGGER OF KONSTAN SPRING AUDIO
Stefan Rudnicki is a Grammy and Audie Award winner who has narrated and/or produced over 3,500 audiobooks.  He has a dozen published books to his name, and has been seen in more than 80 stage productions on both coasts and abroad.  He is the co-founder of Skyboat Media and Podcast Producer for Lightspeed.