The stone heated in Inona's hand as the man's magic hit her shields, identifying him as her target. Glaring at his back as he strode away, she muttered a curse. Oh, she'd found her exile, all right. Casually using his magic on others. Coric wouldn't have let that stand. Delbin might have gone renegade in the couple of years since his last check, she supposed, but there'd been no indication from Coric that Delbin was at risk of such behavior.-from EXILED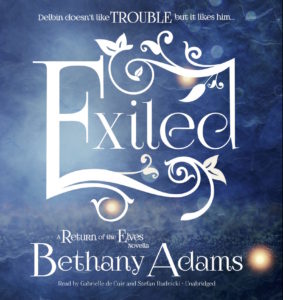 Author Bethany Adams has given us EXILED, a short & sweet novella. The story takes place in the world first introduced to us in SOULBOUND and SUNDERED.
Inona has been sent to check on Delbin Rayac, an exile from Moranaia who's lived on Earth for a hundred years. She just wants to make sure he's not causing any trouble and be done with her mission.   Delbin is Coric's responsibility, but she's covering while Coric and his wife welcome their first child.
Like most Moranaians, Inona doesn't trust exiles.  But there's something about Delbin's story that makes her realize he may be different than most.
Enter Prince Kien. He is the exiled, self-proclaimed heir to the throne of Moranaia.  He wants to recruit Delbin, even though Delbin's never seen him before. Why?
Stefan Rudnicki and Gabrielle de Cuir bring their narration talents to this story, featuring new characters and some familiar ones.
Included with this novella is the bonus short story, "The Grove Between," previously published in the Against All Odds anthology.
ABOUT THE AUTHOR: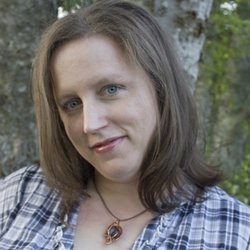 Bethany Adams has loved fantasy ever since she found a copy of The Hero and the Crown in her elementary school library. Her love of writing led her to pursue an English degree at Middle Tennessee University.  When she's not writing, she enjoys reading, photography, and video games.
If you'd like to know more about faes, check out the author's FAQ page here.