Unabridged
Release Date: January 10, 2017
Book: 3
Directed by Claire Bloom /Published by Skyboat Media
3rd book in a series that began with "Girls can't be Knights". All are a delightful read with interesting, fun characters. Book's supposed to be YA but I'm 5 decades beyond YA & I loved it.
Award-winning narrators Gabrielle de Cuir and Stefan Rudnicki return in ETHEREAL ENTANGLEMENTS, the third installment in THE SPIRIT KNIGHTS SERIES by Lee French.
From the author's website:
Claire has finally been accepted into the order of Spirit Knights. However, that doesn't mean everyone thinks she belongs there.  She learns far more than any Spirit Knight wants her to, especially the order's founder, Caius. The gorgon-slaying hero of Ancient Rome may not be what everyone thinks.
Discovering the truth is always a perilous quest. Now working with her possessed best friend, Drew, Claire means to follow the crumbs down the rabbit hole and charge head-first into a millennia-old feud.
If you'd like to know how it all began, listen to GIRLS CAN'T BE KNIGHTS and BACKYARD DRAGONS.  Available on downpour.com.
ABOUT THE AUTHOR: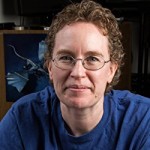 Lee French lives in Olympia, WA, and is the author of several books, most notably the Maze Beset Trilogy.  She is an active member of the Northwest Independent Writer's Association and serves as the Municipal Liaison for the Olympia region of NaNoWriMo.–From the author's website.
If you like what you hear and can't get enough of Lee French, check out the Maze Beset Trilogy on audio.  Available on downpour.com