The word apocalypse conjures up some truly terrifying images of the end times, but there is a hidden meaning in the word. "Apocalypse," Greek in origin, translates to a "revelation" and ALTERNATIVE APOCALYPSE is a revelation of humor, terror, triumph, despair, and laughter when the best laid plans go awry.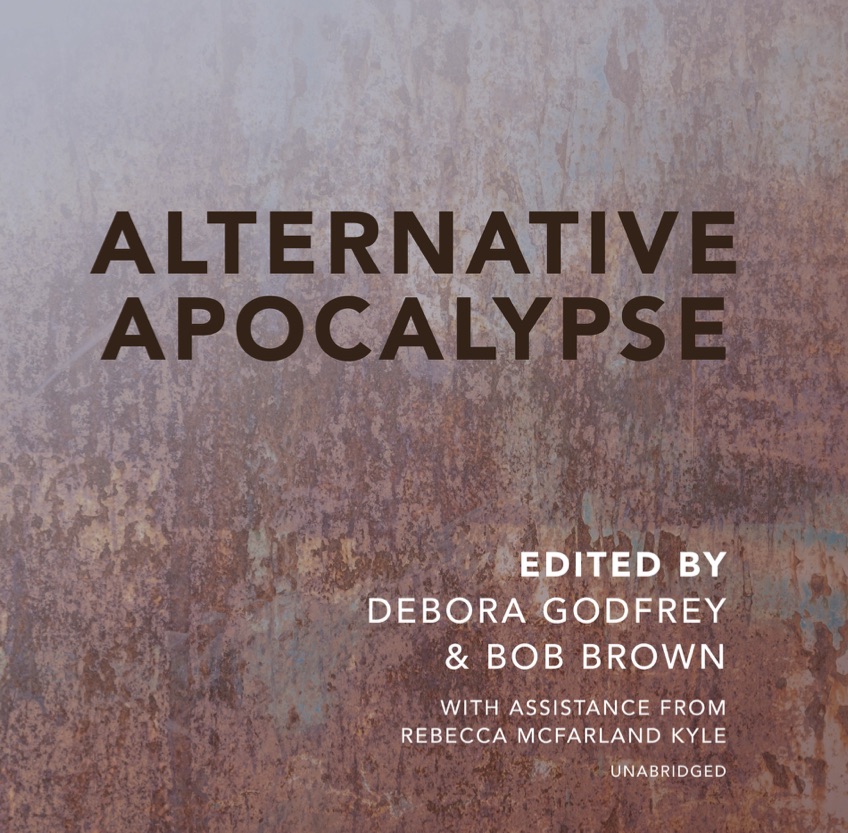 Co-editors Debora Godfrey and Bob Brown have really outdone themselves with this star-studded anthology. Debora Godfrey has had stories published in More Alternative Truths: Stories from the Resistance, Alternative Theologies, and Alternative Truths III: Endgame. Debora lives in a modern commune on Bainbridge Island, WA, with a dog, a husband (part time), and a variable number of lawyers. Bob Brown is a writer, farmer, and scientist. He is also the owner and chief editor at B Cubed Press. A young press that began with protest books and has grown into a minor success (we can see why!), B Cubed Press is still and will always be a micro-press where the writer comes first.
And talk about a lineup of writers! This anthology, published by B Cubed Press, includes thirty stories from thirty award-winning writers, poets, and thinkers from all around the world, including: Nigeria, Greece, the UK, the USA, Canada, New Zealand, and Australia.
Full list of authors in order of appearance: J. J. Steinfeld, Jim Wright, Jane Yolen, Rupert McTaggart Brackenbury, Stuart Hardy, Ugonna-Ora Owoh, Tomas Furby, Melvin Sims, Patrick Winters, Andrew Davie, Brian K. Lowe, Philip Harris, B. Clayton Hackett, David Bernard, Mike Resnick, Debora Godfrey, Christine Lucas, James Rowland, Ian Creasey, Henry Gasko, Daniel M. Kimmel, Liam Hogan, Mikal Trimm, Michelle F Goddard, Larry Hodges, Jean Graham, Sandy Parsons, D. S. Ullery, and P. L. Ruppel.
When Bob approached Skyboat about producing the audiobook, we jumped at the chance. We are honored to welcome ALTERNATIVE APOCALYPSE into the Skyboat family.
And with such an incredible list of authors, we knew only the very best narrators would do!
Full list of narrators: Paul Boehmer, Gabrielle de Cuir, Justine Eyre, Arthur Morey, John Allen Nelson, Kate Orsini, John Rubinstein, Stefan Rudnicki, and Kristoffer Tabori.
ALTERNATIVE APOCALYPSE includes "The Deserter," the first short fiction from Jim Wright. Jim is known for his wonderful and popular blog, Stonekettle Station, and while he has been called "the Tool of Satan," he "prefers to think of himself as The Devil's Designated Driver" (from his bio). So when it came time to cast Jim's story, Stefan could not pass up this opportunity.
In fact, when coming out of the booth, Stefan said this was "one of the most challenging pieces I've ever narrated." And coming from an AudioFile Golden Voice who has narrated hundreds of audiobooks, this is saying a lot. Trust us. Apocalypse or no apocalypse, you do not want to miss this. Don't just take our word for it. You can listen to a sample of Stefan Rudnicki reading Jim Wright's "The Deserter" on Skyboat's SoundCloud.
But, don't worry, there are plenty of literary gems for all.
John Rubinstein kicks things off with "The End of the World," a haunting poem by J.J. Steinfeld. Gabrielle de Cuir lists the "Thirteen Things to Do Before the Apocalypse" by Jane Yolen, including throwing away your journal (number 3) and studying hypnotism (number 4).
In "The Yes/No Machine" by Stuart Hardy, Arthur Morey brings to the life the dialogue between a civil servant, a reporter, and a machine. Because machines now settle all disputes with…you guessed it…a yes or a no.
Meanwhile in "The World of Bob" by Rupert McTaggart Brackenbury, the entire world becomes Bob, a 34-year-old overweight human male, and Paul Boehmer tackles the challenge with his usual aplomb. Justine Eyre and John Allen Nelson join forces for "Live Tweeting the Apocalypse" by Ian Creasey, which is composed entirely of tweets! (Ever found yourself wondering what Twitter would look like at the end of the world? Here's your answer!)
Hear Kristoffer Tabori voice Death himself in "Behold a Pale Rider" by Christine Lucas. It turns out that Death was a bit late to the end of the world party and the other three horsemen of the Apocalypse are now whittling away the hours in the lovely Rainbow Sunset Retirement Community…but Death has finally arrived.
In "A Pebble in the Data Stream" by Michelle F Goddard, Kate Orsini breathes life into Alasie, a teen determined to use her hacking skills to get her uncle the medical attention he desperately needs, and maybe spark a revolution in the process.
Stefan also voices Mike Resnick's "The Last Dog," written from the perspective of the dog who befriends the Last Man on Earth. We are saddened to report that Resnick passed away in January 2020 after a lengthy battle with cancer. Resnick was the recipient of five Hugo Awards as well as a Nebula and a Locus Award and will be missed by the science fiction community. We are glad his work will live on.
These are the narrators you'd want to spend the end of the world with. Rest assured, if we are going out, we are going out with a bang! Purchase your copy today!
Full list of stories, authors & narrators – in order of appearance:
Introduction by Bob Brown and Debora Godfrey – read by Stefan Rudnicki
"The End Of The World" by J. J. Steinfeld – read by John Rubinstein
"The Deserter" by Jim Wright – read by Stefan Rudnicki
"Thirteen Things To Do Before The Apocalypse" by Jane Yolen – read by Gabrielle de Cuir
"The World Of Bob" by Rupert McTaggart Brackenbury – read by Paul Boehmer
"The Yes/No Machine" by Stuart Hardy – read by Arthur Morey
"Apocalypse" by Ugonna-Ora Owoh – read by Stefan Rudnicki
"The Janitor" by Tomas Furby – read by Kristoffer Tabori
"The Vision" by Melvin Sims – read by Stefan Rudnicki
"Punxsutawney Eulogy" by Patrick Winters – read by Arthur Morey
"Living In The Gleam of an Unsheathed Sword" by Andrew Davie – read by Kristoffer Tabori
"Suppose They Gave an Invasion and Nobody Came" by Brian K. Lowe – read by Stefan Rudnicki
"This is Not the Apocalypse You Are Looking For" by Philip Harris – read by Paul Boehmer
"The Golden Disks" by B. Clayton Hackett – read by Arthur Morey
"Future: Imperfect, Tense" by David Bernard – read by Justine Eyre
"The Last Dog" by Mike Resnick – read by Stefan Rudnicki
"Sunset" by Debora Godfrey – read by Gabrielle de Cuir
"Behold A Pale Rider" by Christine Lucas – read by Kristoffer Tabori
"The Ten Stages Of War" by James Rowland – read by Paul Boehmer
"Live Tweeting the Apocalypse" by Ian Creasey – read Justine Eyre & John Allen Nelson
"Launch Of the Sagan" by Henry Gasko – read by Arthur Morey
"End of Days" by Daniel M. Kimmel – read by Kristoffer Tabori
"That's Not My Apocalypse…" by Liam Hogan – read by Stefan Rudnicki
"Sitting Here In Limbo" by Mikal Trimm – read by Paul Boehmer
"A Pebble in the Data Stream" by Michelle F Goddard – read by Kate Orsini
"Back to Reality" by Larry Hodges – read by Arthur Morey
"To a Soldier's Mother" by J. J. Steinfeld – read by Justine Eyre
"Night is the Forbidden" by Jean Graham – read by Stefan Rudnicki
"Releasing The Tigers" by Sandy Parsons – read by Justine Eyre
"Dancing On The Edge Of Eternity" by D. S. Ullery – read by Kristoffer Tabori
"The Last and Greatest Vision of Saint Ethan The Obscure" by P. L. Ruppel – read by Stefan Rudnicki