"There had been others who had come here, and not all of them had been human.  Entering the maze, Muller had been treated to the sight of those who had failed to go the route.  He had sighted a score of human skeletons in Zones H, G, and F. Three men had made it to E, and one to D.  Muller had expected to see their bones; but what took him off guard was the collection of alien bones."  from THE MAN IN THE MAZE
Skyboat Media has long been a fan of iconic Robert Silverberg's masterful work in science-fiction.  We are proud to present the audiobook version of THE MAN IN THE MAZE.  Read by award-winning narrator Stefan Rudnicki.
Richard Mulle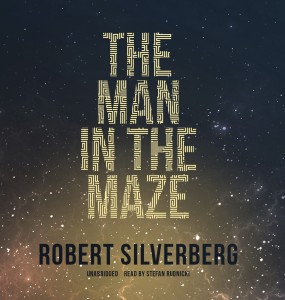 r is a diplomat in a galaxy that's now been partially colonized by human beings.  Finally, a race of intelligent aliens has been found and Muller is sent to reach out to them.  The aliens leave him with a psychic wound that makes his presence unbearable to his fellow humans.  His subconscious thoughts now radiate from his mind.  Anyone approaching him feels anger, depression, and grief.  Embittered, Muller decides to exile himself to the planet Lemnos, where he lives in an abandoned city of murderous mazes.
Now, new alien race appears that wants to exterminate all of humanity.  The only person who can communicate with them is Richard Muller because of the very affliction that caused his exile in the first place.  Is Muller willing to help those who cast him aside?
"One of science fiction's modern masters…his words and his work have shaped the whole direction of the field."-Chicago Sun-Times

"Robert Silverberg's versatile, skeptical intelligence controls a lavish and splendid imagination." -Ursula K. Le Guin

"Done Silverberg's way, science fiction is a fine art."-Associated Press
Take a look at this interview with Robert Silverberg where he discusses the fantasy genre and its importance in helping him create futuristic worlds.
Listen to a sample here!
Purchase your copy of THE MAN IN THE MAZE today.
If you like what you hear, check out Skyboat Media's other Robert Silverberg titles:  NIGHTWINGS, STAR OF GYPSIES, and THORNS.  Available on downpour.com.