"A strong debut from Lee, combining brutal, visceral athletic scenes with science fiction action, all woven around a complex moral dilemma." —Publisher's Weekly
Talk about a knockout! Author Fonda Lee's debut novel packs a punch, literally.
Kirkus Reviews calls it a "top-notch science fiction and a great sports novel too." As she explains in an interview with Natalie Aguirre on Literary Rambles, "Zeroboxer was inspired by a number of things: my love of science fiction, martial arts, and action movies, combined with my background working in a sports company and seeing first hand the enormous amount of marketing, money and emotion involved in the athletics industry. It all came together in my mind as a nascent idea about a futuristic prizefighter who ends up inspiring and representing Earth. Everything else fell into place."
"The familiar, wrapped in the new. The experience of looking through a fantastical lens and still seeing ourselves, unmistakably. That's the power and the lure of our genre." –Author Fonda Lee, via Chuck Wendig's terribleminds blog
Fonda Lee writes science fiction and fantasy for teens and adults. ZEROBOXER is her debut novel. Enamored with science fiction and fantasy from an early age, Fonda wrote her first novel, about a dragon on a quest for a magic pendant, in fifth grade during the long bus ride to and from school each day. Fonda is a long-time, avid martial artist in karate and kung fu. She goes mad for smart action movies (think The Matrix, Inception, and Minority Report). She loves a good eggs benedict. A corporate strategist by training, Fonda has advised or worked for a number of Fortune 500 firms. ZEROBOXER is inspired by all of these things, except the eggs benedict.
Alright, we have a knowledgable author, a well-crafted action-packed story, now we need a narrator! And it turns out we didn't have to search too far. Skyboat's Stefan Rudnicki happily stepped into the ring…um, booth for this one.
Stefan reflected on the experience: "The characters are not only clear, but clearly appealing, in a world made vividly real by both their relationships and the hard science of the environments they inhabit. Add to this some genuine suspense built on serious issues of science, ethics and law, not to mention fight scenes that can be fully understood and followed by the reader/listener, and you've got a story people can really care about."
Hmmm, sounds like someone wouldn't mind a round two.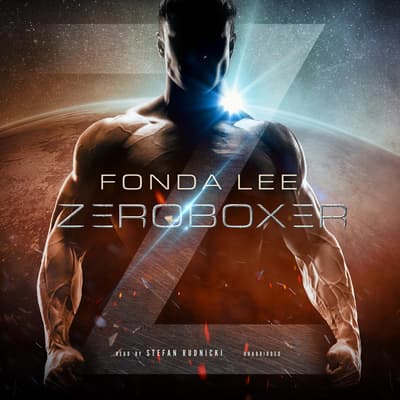 ZEROBOXER by Fonda Lee
Read by Stefan Rudnicki
A rising star in the weightless combat sport of zeroboxing, Carr "the Raptor" Luka dreams of winning the championship title. Recognizing his talent, the Zero Gravity Fighting Association assigns Risha, an ambitious and beautiful Martian colonist, to be his brandhelm—a personal marketing strategist. It isn't long before she's made Carr into a popular celebrity and stolen his heart along the way.
As his fame grows, Carr becomes an inspirational hero on Earth, a once-great planet that's fallen into the shadow of its more prosperous colonies. But when Carr discovers a far-reaching criminal scheme, he becomes the keeper of a devastating secret. Not only will his choices put everything he cares about in jeopardy but they may also spill the violence from the sports arena into the solar system.
Here are some interesting perspectives from today's Zeroboxers!
Listen to an audiobook sample on Skyboat's SoundCloud and purchase your copy today!
BUY ZEROBOXER