"Aargh!! It ended! I want more!" –Amazon reviewer
Yep, "more please" seemed to be the general plea – from Amazon reviewers to bloggers. "Of course I'm gonna read book 2" ends the review on the "I Write What I Read" blog while Sarah "SacaKat" Fairbairn asks series author Sever Bronny to bring on the next installment.
So, just what is all the buzz about?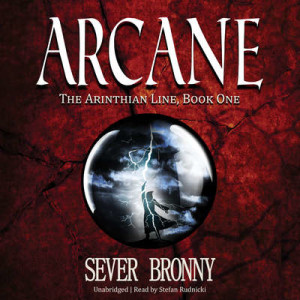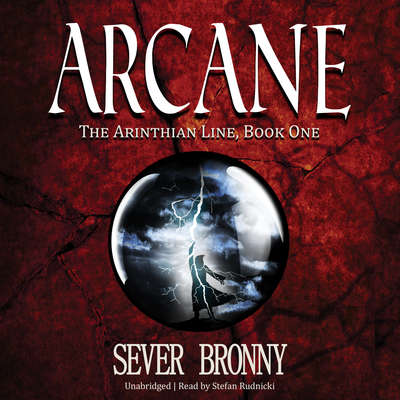 ARCANE (The Arinthian Line, Book 1) by Sever Bronny
Read by Stefan Rudnicki
Fourteen-year-old Augum and friends Bridget and Leera dream of becoming warlocks. But with a kingdom in total chaos, it will take courage, sacrifice, and an iron will to make that dream come true. The lord of the legion, a vicious tyrant, has overthrown the king in a relentless and murderous quest for seven mythic artifacts—and Augum's mentor, the legendary Anna Atticus Stone, possesses one. While Augum struggles with demons from a painful childhood, a betrayal puts him, his friends, and his mentor through a harrowing ordeal that threatens to destroy them all … and change the course of history.
Arcane, the debut novel in the fantasy adventure series the Arinthian Line, follows three friends as they navigate an ancient, abandoned castle, endure grueling training, challenge old mysteries, and learn that a bond forged in tragedy might just be the only thing to save them from a ruthless enemy. 
"Arcane is a very intriguing story, well written, and beautifully conceived. A super entertaining book." –Author E.C. Sheedy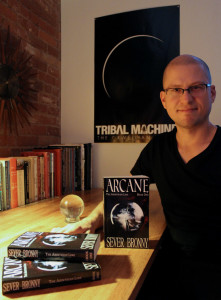 Sever Bronny is a musician and author living in Victoria, British Columbia. He has released three albums with his industrial-rock music project Tribal Machine, including the full-length concept album The Orwellian Night. His love of fantasy began with Dragonlance and continues on with Harry Potter. The Arinthian Line is his first series, but not his last!
Readers (and listeners!) can connect with Sever at his website severbronny.com. And we highly recommend you do. Not only is Bronny gracious, but he is also informative, and witty to boot! Check out his blog where sometimes he asks fellow authors "to undertake the toughest assignment given to man – answering my stupid questions." Join his advance reading team and hop on the mailing list for discounts and updates. You can even check out his Pinterest board for imagery connected to the Arinthian Line series.
Is it any wonder why Stefan Rudnicki was thrilled to narrate the start of the Arinthian series? And Stefan is not the only one grateful ARCANE is just the beginning! Nerd Girl Magazine's review says it all: "The author has created a fantasy world that pulled me in and captivated me….This story started strong, stayed strong and ended leaving me wanting more immediately…"
What are you waiting for? Purchase your copy today and get listening! And if you've already devoured ARCANE, hop on over to our ARINTHIAN LINE SERIES blog post for a behind-the-scenes look at the next installments and visit our Arinthian Line Series playlist on Skyboat's SoundCloud!