Stefan has been a fan of Robert W. Chambers' THE KING IN YELLOW for a very long while. And we have a new addition to Chambers' audio canon: THE MYSTERY OF CHOICE.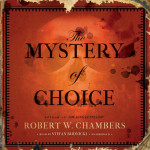 After recording the macabre collection THE KING IN YELLOW by Robert W. Chambers, who's been called "the father of supernatural fiction", we here at Skyboat knew we could not get enough of Chambers and his eerie and ominous short stories. Lucky for us (and you!) there's more! Hence we are thrilled to release a second collection of Chambers' tales: THE MYSTERY OF CHOICE. Originally published in 1897, THE MYSTERY OF CHOICE includes seven chilling stories: "The White Shadow", "Passeur", "The Key to Grief", "A Matter of Interest", "The Purple Emperor", "Pompe Funebre", and "The Messenger". And the book is out of print; so this is not available anywhere else, unless you own a very rare original edition (like we do!) Don't you love being exclusive and obscure? All narrated by super fan Stefan Rudnicki. (Trust us – just look at the video below!) He brings this same passion and enthusiasm to narrate this collection, translating into one thrilling audio experience.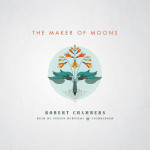 And the stories just keep coming with THE MAKER OF MOONS! Originally published in 1896, Robert W. Chambers' title story of this short-story collection is considered one of his finest weird tales (and coming from Chambers, you know that is saying something!). It is followed by a series of romantic art nouveau stories: "The Silent Land", "The Black Water", "In the Name of the Most High", The Boy's Sister", "The Crime", "A Pleasant Evening", and "The Man at the Next Table". Chambers' love of natural scenery, symbolic animal figures, and ghostly imagery are on full display. And there's no better earthly guide through these otherworldly tales than Stefan Rudnicki.
In fact, Stefan owns one of the few extant copies of the THE KING IN YELLOW's first edition (pictured right), he wrote and produced an award-winning play based on a few of its narratives, and last year, when it came time to record a story in the public domain for the Going Public project, he chose "The Prophet's Paradise" from this very collection.  Once we decided to bring Skyboat head first into the world of publishing, it was an essential, no-brainer to include THE KING IN YELLOW on our list.
The fact that it's the first official Skyboat release makes it all the sweeter.  In the video below, not-in-yellow-Stefan discusses his history with the book and shares the reasons why you'll love it as much as he does. The production is published by Skyboat Media in conjunction with Blackstone Audio, Inc.
Thanks to the HBO series True Detective, THE KING IN YELLOW has been thrown back into the cultural limelight once again.  The last time it was this popular was in 1895, when Chambers first published the work.  Chambers was already a well known writer of the romantic and supernatural at the time, but nothing garnered him more attention than this: a collection of strange little stories—with bits of poetry and prosaic impressions thrown in—that largely weave around a forbidden play (where the book gets its title) that makes its readers go mad.  The result is simultaneously delightful, creepy, inventive, poetic, and downright gutsy, and overall, very ahead of its time.  Chambers was clearly inspired by other writers of the macabre such as Poe and Wilde and helped pave the way for future experimentalists such as Eliot and Stein.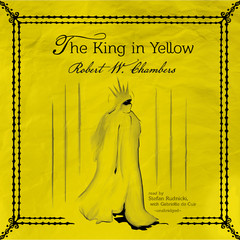 We are passionate about this book.  We think this book takes on a life of its own when it's read aloud.  Stefan is an award-winning narrator, but something truly special happens when he narrates a book that he loves this much.  It should be mentioned that he doesn't go it alone; Gabrielle de Cuir also narrates a handful of sections throughout.
It's worth a listen, so get your copy here. Or a quick download at iTunes:
Just don't do it right before bed, unless you want to have seriously weird dreams.