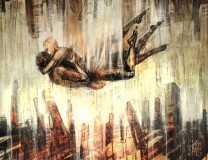 In THE TRADITIONAL by Maria Dahvana Headley, two lovers meet on the night of the first apocalypse, and even though they live in a world where hair is black market, skin is for gifts, and giant worms have nearly conquered all, a few things of regular life remain, and love just might be one of them.  Narrator Kathe Mazur brings the perfect mix of sarcasm, sex, and sadness to this powerful and unique second-person story.  We dare you to not get sucked in.  Listen to the story below, then check out Lightspeed's Author Spotlight on Maria Dahvana Headley to hear more about her choice of second person, a few literary influences, and why this narrator is a girl bullshitter.
Maria Dahvana Headley is the Nebula-nominated author of the dark fantasy/alt-history novel Queen of Kings, as well as the internationally bestselling memoir The Year of Yes and several short stories.  Most recently, with Neil Gaiman, she co-edited the young-adult monster anthology Unnatural Creatures, to benefit 826DC.  Find her on Twitter at @MARIADAHVANA.
Kathe Mazur is a stage, television, and film actress and award-winning narrator who has narrated over 100 audiobooks.  Her recording of QUIET was named a 2012 Best Audiobook by AudioFile Magazine and Best Non-Fiction Audiobook by Audible.com.  Kathe's steamy performance in Don't Cry For Me by Sharon Sala garnered her a Finalist place in the Romance Category this year at the AUDIE AWARDS. She claims that when she was a child, she used to read books aloud to imaginary children, at the time unaware that there would be a future in it.